Greece sells off family silver to cut debt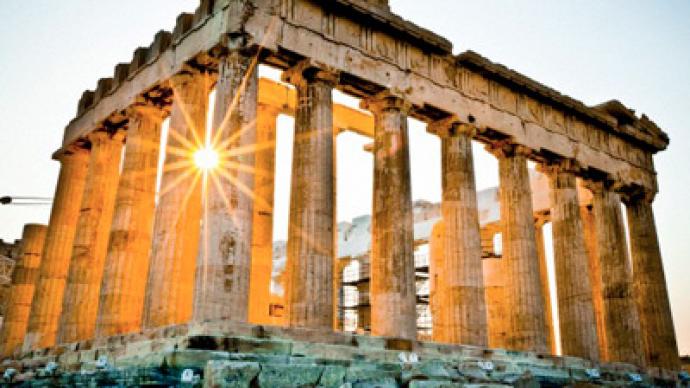 After failing to meet its primary deficit target this year Greece is to start selling off state property at home and abroad. Not only former royal palaces, but marinas, airports, and diplomatic residences abroad will be put up for sale.
The sell-off was announced just a day after Athens's Finance Minister Yannis Souranas revealed a forecast that the national income is projected to fall 25% by 2014. Greece plans to raise up to 50 billion euros from state assets by 2020 to meet conditions tied to the 240 billion euro in foreign aid received over the past two years. "There is a decision to lease and sell properties that for various reasons are not being used," Gregory Dalevekouras, spokesman at the foreign ministry, told The Guardian. The foreign ministry's finance department, he said, was hard at work evaluating "market conditions".Greek authorities announced plans to sell the 947-square-meter consular residence in London's upscale Holland Park – a 115-year-old Victorian townhouse, which is currently being renovated. The residence in one of London's wealthiest boroughs could be a big deal, as Richard Branson, put his home nearby up for sale for £17m last year.Buildings slated for sale by the Greek privatization fund reportedly include an eight- story 2,850 square-meter residence in Brussels, and a 2,376 square-meter Baroque building in Belgrade, as well as residences in the Slovenian capital, Ljubljana, and in Nicosia, the capital of Cyprus. Since the economic crisis erupted in Greece, the country has significantly scaled back its diplomatic presence abroad in order to cut expenditure.Greece has also proposed to sell off or lease the former Tatoi royal palace, the country house 27 km from the Acropolis. The estate includes 40 outbuildings and a cemetery where Greek royalty dating back to 1880 are buried. But the poor condition of the palace could make it hard to sell or require a lot of money to renovate, experts say.Athens has already raised about 1.8 billion euros from its asset sales program and expects to complete 300 million euros of asset sales this year. The large-scale Greek privatization program was held back because of two general elections and negotiations over the country's debt swap, sparkling criticism that Athens fails to reduce its debt.