EU replies to Putin: Remaining a reliable supplier in Russia's interest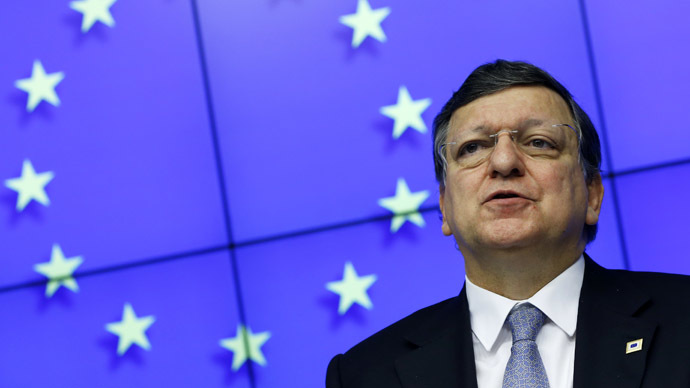 Replying to the Russian President letter warning of a threat to gas transit through Ukraine, the EU said Gazprom should follow its contractual obligations, urging an early warning of any possible disruptions.
"As far as the gas supplies to Europe are concerned, I would like to recall that supply contracts are between European companies and Gazprom. It therefore continues to be Gazprom's responsibility to ensure the deliveries of the required volumes as agreed in the supply contracts," Jose Manuel Barroso, the head of the European Commission, wrote in a letter published Thursday.
Barroso urged restraint concerning the possible threat of a partial or full halt to gas deliveries, "which would create doubts about your willingness to be seen as a reliable supplier of gas to Europe," he said.
To avoid a shock to the energy markets, Russia should use the Early Warning Mechanism that was established between Russia and the EU after the gas crisis of 2009.
"It is important to recall that in case of an emergency situation, this mechanism should be activated before taking any unilateral steps," Barroso said.
The EU Commission chief also welcomed the idea of holding urgent talks between Russia, Ukraine and the EU that should help to find a way to deflect problems with gas supplies to Europe.
"We recognise that in the case of natural gas supply and transit the need for a structured and comprehensive dialogue is particularly urgent," the letter went on to say.
Given that Russia and the EU are Ukraine's close trading partners, "let me reiterate that the need to ensure the long-term political and economic stability of Ukraine is therefore a key interest of the European Union and of the Russian Federation as you stated in your letter."
In a reply to Putin's call to switch from promises to action Barroso insisted that the EU has already started to provide real help to Ukraine.
"The European Union, together with its international partners under the framework of the planned IMF assistance package, is already providing significant support to Ukraine and its people through substantial macro- financial assistance, generous trade preferences and a variety of other aid measures agreed with the Ukrainian authorities."
On April 10 Russia's President Vladimir Putin wrote a letter to 18 European Union leaders, where he warned that Ukraine's gas debt ad reached a "critical" level, which could lead to disruptions in transit of Russian gas through Ukraine.
However, President Putin said Russia is giving Ukraine a one month deadline to pay the outstanding $2.2 billion gas debt.