Pre-payment for gas to Ukraine if current bills not met - Putin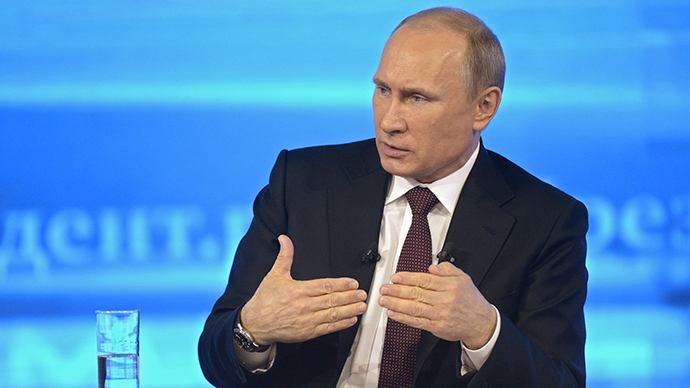 Gazprom will switch to a pre-payment system in one month if Ukraine doesn't start paying for natural gas imports from Russia, President Vladimir Putin has warned during Thursday's 12th annual question and answer session.
"We could do it today, but we will wait another month," Putin said about implementing a pre-payment system for Ukraine. In March, Ukraine didn't pay a dollar of its $525 million gas bill, Putin said.
"In accordance with the contracts, we will start pre-payment in one month. They will pay in advance and we will give them as much as they pay for."
Ukraine's Naftogaz is deeply indebted to Moscow, owing over $2.2 billion in unpaid bills. In response to Kiev's non-payment, Gazprom has increased natural gas prices to $485 per thousand cubic meters, $100 more than most of Europe pays for its Russian gas.
"It is a complicated settlement, and it may lead to a disruption for European partners," the Russian president warned.
In Putin's view, Ukraine is the most dangerous element in energy security in Europe. Russia is responsible for stable gas deliveries to Europe, but not transit through Ukraine, which is guaranteed by an agreement with Kiev, he said.
On Thursday European Commission President Jose Manuel Barroso wrote to Putin urging Russia to provide an early warning of any possible delivery disruptions.
"Let me reference the Early Warning Mechanism which was established between the EU and Russia after the gas crisis of 2009, and then updated in 2011. It's important to remember that in the event of an extreme situation this mechanism should be activated before any one-sided decisions are taken," Barroso said.
Barroso's comment was in response to a letter President Putin sent leaders of several European countries on April 10.
Russia's biggest gas client Germany imports over 25 billion cubic meters of gas from Gazprom each year, about a third of its energy. Italy is another big importer, also relying heavily on Russian imports as deliveries from North Africa have proved unreliable.
Lithuania, Estonia, Finland, Latvia, Bulgaria and the Czech Republic import 100 percent of their natural gas from Russia.
You can share this story on social media: