Ukraine readies to sue Gazprom in Stockholm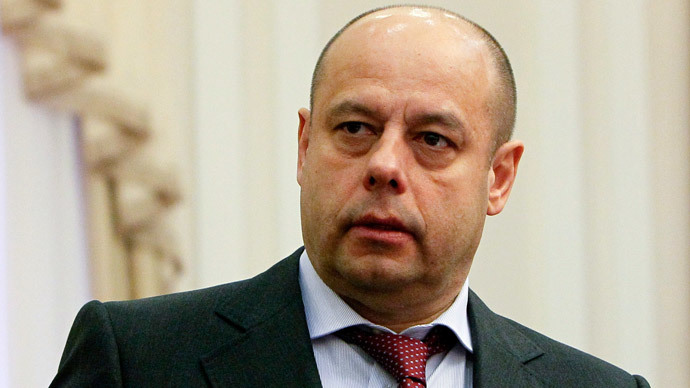 Lawmakers in Ukraine have started preparing a lawsuit against Gazprom, as they think the price of Russian gas is exorbitant and politically motivated, Ukraine's coup – appointed Energy Minister Yuri Prodan has said.
Ukraine is preparing to go to the Stockholm arbitration court claiming the gas price it has to pay after all of the discounts are withdrawn is unacceptable, Prodan told the Ukraine parliament on Friday.
The Energy Minister assured parliament he has been formalizing the claims over gas prices since "the first day in a new position". Ukraine's Ministry now wants to revise the terms of the 2009 contract.
Yuri Prodan was appointed Energy and Coal Industry Minister in late February 2014.
Currently Gazprom charges Ukraine $485 per 1,000 cubic metres, after Russia cancelled all of the discounts it used to offer.
On Thursday President Putin wrote a letter to 18 European countries, saying Ukraine's $2.2 billion gas debt was "critical" and transit to Europe is now under threat.
In the same speech on Friday Prodan said he hoped to buy more gas from Europe to provide for better energy security in case Russia cuts off supplies.
"Ukraine cannot pay such a political, uneconomic price, so now we are negotiating with the European Union about reverse deliveries into Ukraine," Prodan said.
Ukraine will urgently start buying European gas using reverse flow, with Germany's RWE and a French gas company expected to be among the first to come to Ukraine's rescue, he said.
Poland and Hungary could provide additional, but smaller proportions of gas, with Slovakia also possibly helping, Prodan said, adding that first certain "political questions" need to be solved.
Before starting reverse gas flows Slovakia wants to hold talks with Ukraine, Russia and the European Union to make sure exports to Kiev don't violate existing contracts.
Last week Gazprom CEO Aleksey Miller questioned the legality of any reverse gas flows from Europe to Ukraine.
You can share this story on social media: