Gas wars: Ukraine due on $2.2 bn debt to Gazprom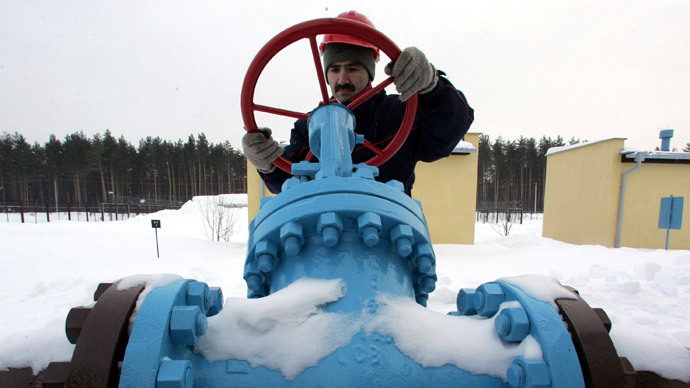 Another potential gas war between Kiev and Moscow looms as Ukraine is due Monday to pay a $2.2 billion debt to Russia's Gazprom. Ukraine's PM has called the new gas prices "unacceptable" and purely "political".
"There has been no progress," Financial Times quotes Gazprom's spokesman, Sergey Kupriyanov, speaking in Kiev. "They are not paying anything, zero."
"We cannot deliver gas for free, so they need to pay off the debt," said Aleksey Miller, Gazprom chief executive has said.
"They also need to pay for 100 per cent of current supplies," Miller said, adding that the situation "cannot continue indefinitely".
Gazprom and Kiev's Naftogaz have a rocky payment and pricing history, and past tiffs have resulted in Moscow turning off the pipes, cutting off supplies to Europe.
However, a Gazprom spokesman said Monday that Russian gas exports to Europe through Ukraine remain stable despite a standoff between Moscow and Kiev, Reuters reports.
"Our Russian neighbors have applied another type of aggression - gas," Arseniy Yatsenyuk said after Gazprom hiked prices last Thursday to $485 per thousand cubic meters starting from April, a higher price than most European customers pay.
The next step
"We realize that the next step for Russia will be to limit the supply of natural gas," Ukraine's current Prime Minister Arseniy Yatsenyuk said in a televised speech on Saturday.
"Russia has failed to conquer Ukraine through military force, so now they are pursuing economic aggression," said Yatsenyuk.
Ukraine says they will only pay the "acceptable" market price of $268 per 1,000 cubic meters. Gazprom, in the past, has awarded Ukraine huge discounts on gas – more than $11 billion – vis-a-vis the Kharkov Agreement of 2010, but was forced to cancel this $100 per 1,000 cubic meters discount when Moscow voided the pact.
"We are shifting into higher gear towards another gas war," Valentine Zemlyansky, a Ukrainian energy analyst, told the Financial Times.
Russia is one of Europe's top gas suppliers and for some countries, the main source. Eastern Europe has asked the US and EU to help the region become more energy independent, and Ukraine specifically has pitched the idea of reversible gas flows into the country, which according to Gazprom, are illegal.
Gazprom has a multi-tier pricing system for its clients- offering generous subsidies to domestic buyers, cheaper gas to former Soviet states, and the most expensive prices to European customers.
Gazprom, which supplies about one third of European deliveries through Ukraine, wants to avoid turning off the pipes, as it chips away at the company's credibility as a reliable source to Europe.
In the wake of increased prices, Yatsenyuk promised the government would continue to subsidize prices and sell gas at a quarter of the price it buys from Russia. However, selling gas at a fraction of a price to customers continues to pinch state-owned Naftogaz, which is nearly bankrupt because of this practice.
A Naftogaz delegation traveled to Moscow last week, but were unable to negotiate any more time to pay off its massive debt, or continue buying gas at a discounted price.
Tensions flared on Sunday when pro-Russia protestors seized government buildings in the eastern Ukrainian cities of Donetsk, Lugansk, and Kharkov, and in Donetsk , the largest city in Ukraine demonstrators demanded a Crimea-style referendum to join the Russian Federation.
You can share this story on social media: