China to overtake US as world's largest oil importer – EIA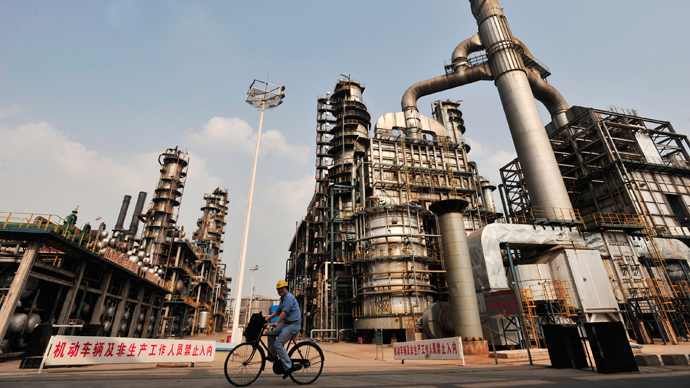 Fueled by a rising population and industrial production, China's net oil imports are set to outpace that of today's leader – the USA – in October. The switch comes as the US 'shale revolution' provides for an increasing share of its domestic needs.
China will leave the US behind in monthly oil imports by October 2013, and annually by 2014, according to a short term outlook by the Energy Information Administration (EIA).

China's net liquid fuel imports are forecast to rise to 6.45 million barrels per day, while in the US they will drop to 6.23 million barrels per day in October, the EIA said. Crude imports and other petroleum products have fallen steadily since 2005.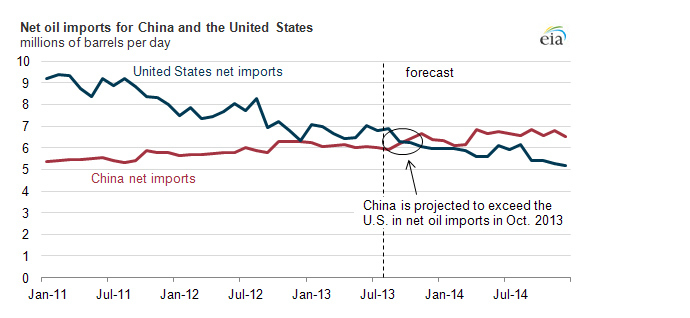 In 2012, China's demand for imported oil accounted for 12 percent of global crude demand, ranking second only to the US. Last year Beijing was buying 5.1 million barrels per day from foreign markets, compared to 10.3 million barrels imported by the US daily.

"It is only a matter of time for China to surpass the US in net oil imports. The most important thing is to find solutions as the largest oil importer China will be very vulnerable to oil price changes," said Lin Boqiang, director of the China Center for Energy Economics Research at Xiamen University.

Spurred by their domestic 'shale revolution', the US is now satisfying more and more of its energy demand from within, with production nearing 13 million barrels per day. New technologies in drilling have made underground shale reserves accessible, which were previously out-of-reach for energy explorers in states like Texas and North Dakota.
China imports 60 percent of its oil, and the remaining demand is met by China's biggest oil producer PetroChina. Imports are sourced mainly from the Middle East and Russia. China has just started fracking for oil and gas in the earthquake-prone Sichuan region.

Oil producers from the Middle East, Russia, Africa and Latin America are all competing for a bigger share of China's growing market as demand for imported oil falls in the US and Europe.

Though China's external energy demand remains 'robust', overall, oil-demand growth is low, and the IEA pared its 2014 estimated by 100,000 barrels from July. Consumption will increase by 1.1 million barrels a day to 92 million next year globally. Forecasts for 2014 are 1.2 million barrels per day.

Total world consumption has reached 89.5 billion barrels per day, and the agency predicts demand to grow by 940,000 barrels a day in the third quarter of 2013, driven by colder temperatures.
Following a 'trade victory'
In 2012, China surpassed the US as the world's largest trading nation by net exports, and becoming the world's largest oil consumer is seen as another market victory. Last month's trade data from China provided for more evidence that the economy is getting stronger. China's exports and imports both increased in July 2013, beating analyst expectations.
It was also a strong recovery from June, when trade contracted for the first time since about 2009. Customs data showed that exports rose 5.1 percent from a year earlier, while imports leaped 10.9 percent.

Chinese industrial output has grown 9.7 percent year-on-year, far outperforming analyst expectations.
You can share this story on social media: