China overtakes US as world's largest trading country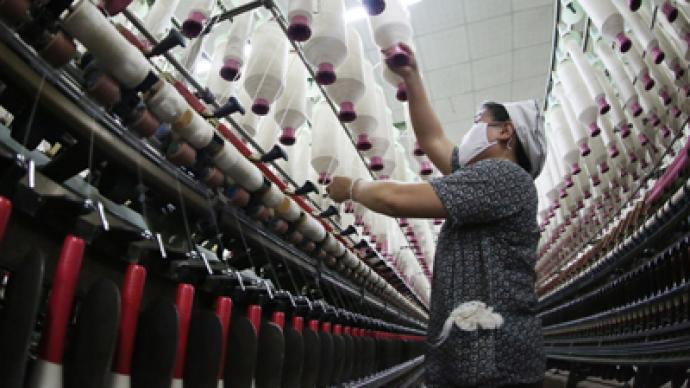 China has passed the US as the world's biggest trading nation as measured by the sum of exports and imports in 2012. It's a position the US has held for over six decades.
US exports and imports of goods last year amounted to $3.82 trillion, the US Commerce Department said last week. China's trade in goods was $3.87 trillion, according to the country's customs administration report in January. While the US recorded a surplus in services of $195.3 billion last year and a goods deficit of more than $700 billion, according to Bureau Economic Analysis, China's 2012 trade surplus, measured in goods, totalled $231.1 billion."The main reason for this growth is the Chinese government policy directed at stimulating domestic demand, which improves imports to growth," Andrey Shenk, an economic expert at Investcafe, told RT. He said China increased its import volumes 5 fold in the last five years, and that allowed it become the biggest trading nation. "For so many countries around the world, China is rapidly becoming the most important bilateral trade partner," Jim O'Neill, chairman of Goldman Sachs's asset management division and the economist who bound Brazil to Russia, India and China to form the BRIC investing strategy, told Bloomberg. And that can even "disrupt regional trading blocs," for instance, "Germany may export twice as much to China by the end of the decade as it does to France," O'Neill added.The figures indicate the trend that China is already outpacing the US, the world's biggest economy, in some respects. According to various estimates, China has the world's biggest new car market, is the biggest energy user, and holds the largest foreign currency reserves. China became the world's biggest exporter in 2009, and its GDP growth rate has averaged 9.9% a year since the 1970s. In 2011 China's GDP growth rate stood at 9.20%, compared to 1.80% in the US during the same year.  In November last year China surpassed the US as the world's leading trade partner, with 124 countries considering China their largest trading partner and only 76 having that relationship with the US. This was a major shift since 2006, when the US was the larger trading partner for 127 countries, while China dominated among 70. Some historical allies of the US now consider China their top trading partner, including Australia and South Korea. Trade with China was on average 12.4% of GDP for its foreign partners in 2012, compared to only 3% in 2002 – a rate that is higher than trade with the US has been in the past 30 years.The US dominated as the world's main trading power since after WWII, but as the recession hit US businesses hard, China's growth continued, and its pace has already recovered from seven straight quarters of decline, reaching 7.9% in 4Q 2012. Still, the US economy is double the size of China's, according to World Bank data. In 2011, the US GDP reached $15 trillion while China's totalled $7.3 trillion. In 2012 China's nominal gross domestic product was $8.3 trillion, according to China's National Bureau of Statistics' report. However, the US remains the biggest importer, taking in $2.28 trillion in goods last year compared with China's $1.82 trillion of imports. The US exports innovative products in the automobile industry, aerospace, medicine, computers, finance and pharmaceuticals.  At the same time, a significant portion of China's trade involves importing raw materials and parts to be assembled into finished products and re-exported, an activity that provides "only modest value added," Eswar Prasad, a former International Monetary Fund official, now a professor at Cornell University in Ithaca, New York, told Bloomberg.
You can share this story on social media: