China's top 5 banks triple debt write-downs to avoid defaults
Published time: 24 Oct, 2013 17:50
Edited time: 25 Oct, 2013 12:31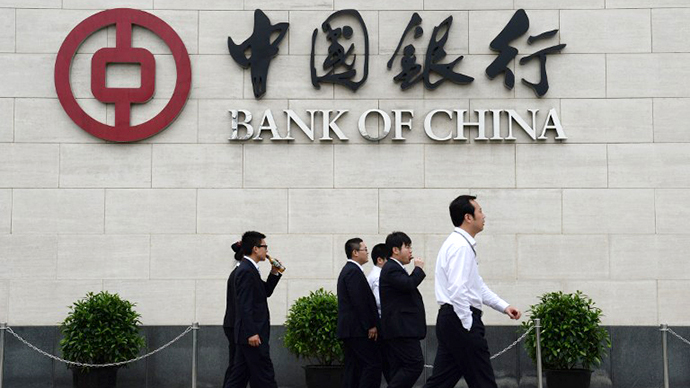 Five of China's biggest banks have tripled the size of debt forgiveness to the country's enterprises in the first six months of the year. The world's biggest foreign lender is now seeking to avoid a wave of domestic defaults.
The world's most profitable lender, Industrial & Commercial Bank of China Ltd, together with its four biggest domestic rivals, wrote down a total of 22.1 billion yuan ($3.65 billion) of debt, a threefold increase on the 7.65 billion yuan last year, Bloomberg reports.
The move came as a part of China's overall initiative to make the banking buffers more crisis-proof. Earlier in April the China Banking Regulatory Commission urged banks to set aside more funds, write off bad loans, as well as cut dividend payments in order to be ready for domestic defaults.
Despite the latest data showed the country's GDP rebounded to 7.8 percent in the third quarter, worries about the slowdown persist. Officially, growth will slow this year to 7.6 percent, its lowest since 1999.
On top of that, China's debt-to-GDP ratio – which doesn't take into account central government and financial debt – ballooned  to 207 percent, with credit growth continuing to outpace productivity gains, Bloomberg cites Mike Werner, an analyst at Sanford C. Bernstein & Co. in Hong Kong, as saying. This growing debt overhang is making investors increasingly worried about the portfolio quality of China's bank.
Russian experts believe that it is Chinese quasi-state corporations involved in infrastructure projects that hold most of the bad debts. Since 2006 Chinese banks have lent massively to unprofitable corporations, where the state held a large stake. As a result, since 2010 such firms have started to increasingly complain they can't pay the debts they took on earlier.
"The talk must be of the debts of quasi-state corporations that work with infrastructure projects of municipal governments. … Nobody knows the amount of these debts, but it's really huge," Sergey Ulatov, an economist from World Bank's office in Moscow told Russia's Gazeta.ru.
Nobody wants to have these companies bankrupt, and "these quasi-state companies receive the support of the central government through the banking sector," Ulatov said.