Legal deadlock: Jury to decide on multimillion dollar Samsung – Apple copyright settlement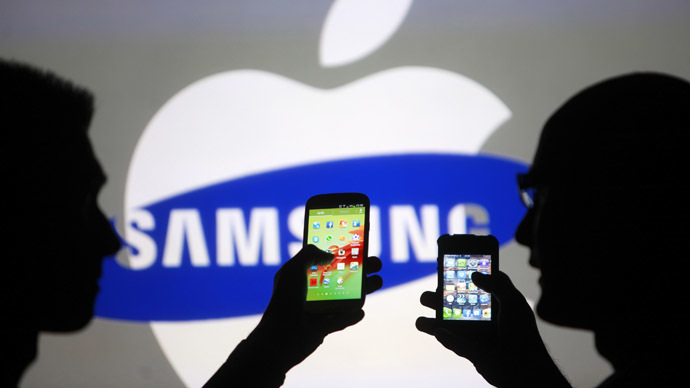 A California jury is expected to reconvene on Wednesday in Apple Inc's $380 million suit against Samsung over alleged copying of iPhone and iPad products.
Apple says that the South Korean phone maker copied a number of aspects of its smartphone and tablet designs, such as the iconic design and overall hardware aesthetic.

The week-long trial in San Jose, California is expected to resume on Wednesday. Samsung argues it only owes Apple $52 million for borrowing features.

Samsung has lost big on Asian markets, as investors await the court decision on how much the handset maker should pay Apple. Shares were down 1.28 percent at 14:00 MST Wednesday.
Apple and Samsung have been embattled in a bitter patent row. This week they return to court to determine damages involving 13 of 26 devices in which an earlier jury found Samsung infringed Apple patents.

Apple was initially awarded $1.05 billion in August 2012 after a judge ruled it copied critical features of the iPhone and iPad.

However, US District Judge Lucy Koh ruled that the jury didn't accurately assess the damage for the 13 products, and reduced the award by $410.5 million

This particular case will decide how much of the $410.5 million Samsung will "payback" to Apple.

Samsung accused Apple's lawyer of making a prejudiced remark in Tuesday's closing statements, which prompted Samsung's lawyer to request the trial be invalidated, Bloomberg reports.

Copyright war
Tension has been high in the back and forth litigation between the two companies, as they compete for brand dominance in the $300 billion smartphone market.

In August US President Barack Obama decided to veto an import ban on Apple products, overturning a June ruling by the US International Trade Commission that approved Samsung's request to ban Apple products that infringed Samsung patents.

The South Korea tech giant lost $1 billion in market value in a single day after the decision.
Apple appealed, and failed to ban Samsung in the US in a 2012 Supreme Court case over patent infringement.
Apple has gradually been losing customers to Samsung products, which run the Android operating system which is also used on LG, Motorola, HTC, and other devices. The platform offers a more "open" system than Apple.

September's release of the new iPhone models – the 5Si and the 5C (a pared-down plastic model) didn't win over investors and customers.

Apple maintains the Samsung products are near copies of their flagship smartphones and tablets, and they are owned compensation for copying key features.

You can share this story on social media: