Samsung loses to Apple in US court, injunction looming
Published time: 25 Aug, 2012 18:50
Edited time: 25 Aug, 2012 22:50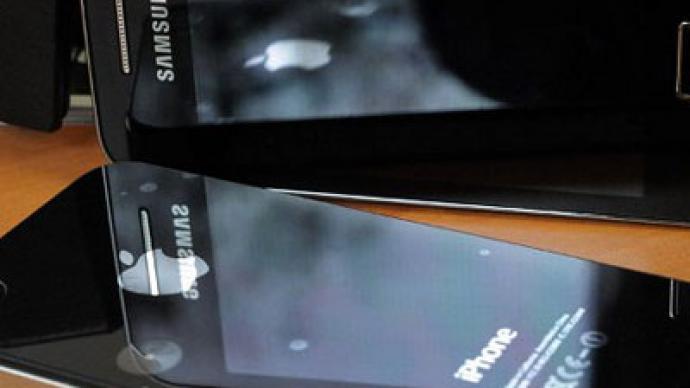 A dramatic patent battle in a US court has wrapped up with Samsung found to have copied critical features of the iPhone and iPad. The $1 billion verdict in Apple's favor is a red flag for the smartphone industry and might push prices higher.
­A Californian jury has found the South Korean phone giant, Samsung, guilty of infringing on a number of Apple's patents.  One such breach concerned a smart app allowing users to tap on the screen to zoom in or out of images. The jurors recommended that Apple be awarded $1.05 billion in damages. Since Samsung's infringement was also deduced to have been "willful", the damages could be tripled.

The South Korean company rebuffed the verdict as "a loss for the American consumer," saying it will move "immediately" to overturn the decision.

Estimated to have $14 billion in cash reserves, Samsung is not likely to be too troubled by the fine, even if it loses in the court of appeals. What could really set the company back though, is an Apple sought ban on sales, concerning scores of products and software.
An injunction hearing has been set for September 20. The results of this proceeding could influence such models as Samsung Nexus S 4G and S II smartphones- or indeed any other Android-run devices, using court ruled Apple-patented feature.
Friday's verdict could have ramifications for Google, which develops the Android operating system used in devices produced by Samsung, LG, Motorola, HTC and other companies. If Samsung loses the appeal, the precedent might force Google to license programs and designs associated with Apple's patents. This will most likely mean a surge in selling prices.

Apple began legal proceedings against Samsung last year. The US giant argued that Samsung copied numerous aspects of its smartphone and tablet designs, such as icon design and overall hardware aesthetic. The company demanded over $2 billion in damages.
Samsung responded with a suit of its own and asked for around $500 million. Friday's decision clearly stung the South Korean producer.

"It will lead to fewer choices, less innovation, and potentially higher prices," said Samsung in a statement following the verdict. "It is unfortunate that patent law can be manipulated to give one company a monopoly over rectangles with rounded corners, or technology that is being improved every day by Samsung and other companies."

Apple, as expected, was more thrilled.
"We are grateful to the jury for their service and for investing the time to listen to our story and we were thrilled to be able to finally tell it," Apple spokesperson Katie Cotton said. "The mountain of evidence presented during the trial showed that Samsung's copying went far deeper than even we knew. The lawsuits between Apple and Samsung were about much more than patents or money. They were about values." 
Still, not all of the verdict went in Apples favor. Some features were concluded to be of Samsung's own work, like the design of Samsung's Galaxy Tab tablets. Nonetheless, the South Korean company has not been entitled to any damages.