Apple fails to ban Samsung smartphones in US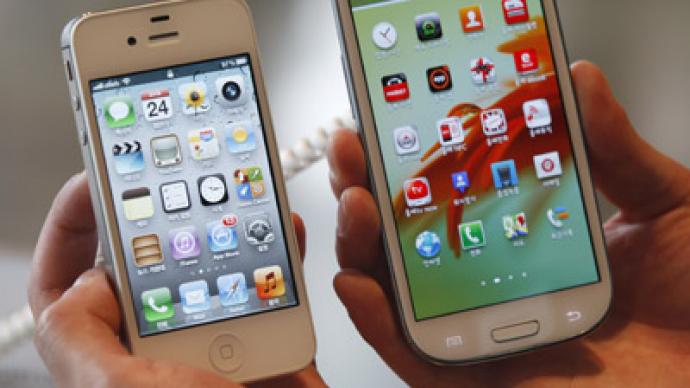 A federal judge has ruled that US retailers can continue to sell certain smartphones manufactured by South Korea's Samsung, even though the court has already agreed that those devices infringe on patents held by Apple.
United States District Judge Lucy Koh rejected on Monday a request from computer giant Apple to ban the sale of Samsung smartphones that were previously determined to too closely mimic the competitor's top-selling iPhone device. From a San Jose, California courthouse this week, Judge Koh ruled that the Samsung devices can stay on the shelves notwithstanding a jury decision in August that awarded Apple over $1 billion from Samsung due to patent infringement.According to Judge Koh, Apple's attempt at halting the sale of Samsung smartphones was unwarranted since the billion-dollar tech business would unlikely be adversely affected in her opinion."Samsung may have cut into Apple's customer base somewhat, but there is no suggestion that Samsung will wipe out Apple's customer base, or force Apple out of the business of making smartphones. The present case involves lost sales – not a lost ability to be a viable market participant," Judge Koh wrote.Speaking to CNN on the decision, attorney Michael Kasdan calls the ruling a "serious and surprising setback for Apple" and expects them to appeal.Kasdan, who is not involved in the lawsuit, explains that "It is extremely unusual in competitor vs. competitor cases for the patentee not to be granted an injunction" as requested by Apple.Even if the Samsung phones improperly copied technology patented by Apple, Judge Koh said those similarities were not significant factors in determining which phone to buy as far as consumers are concerned."While Apple has presented evidence that design, as a general matter, is important to consumers more broadly, Apple simply has not established a sufficient causal nexus between infringement of its design patents and irreparable harm," Judge Koh writes. "Though evidence that Samsung attempted to copy certain Apple features may offer some limited support for Apple's theory, it does not establish that those features actually drove consumer demand."And while Judge Koh's ruling may be considered a partial victory for Samsung, it doesn't come without its setbacks, too. Additionally, the court has denied Samsung's request for a retrial in the patent infringement suit they lost to Apple earlier this year. Samsung had hoped to go back to court since introducing the fact that the jury foreman in that case was previously sued by Seagate, a company that once maintained a "substantial strategic relationship" with Samsung. "If Samsung believes that its relationship with Seagate is close enough that feelings toward Seagate could bias a juror one way or the other toward Samsung, counsel should have pursued the subject during voir dire," the judge wrote.Following the judge's decision to drop Apple's request to ban Samsung products in America, Samsung announced that they would revoke their legal attempt to ban Apple products in Europe."Samsung remains committed to licensing our technologies on fair, reasonable and non-discriminatory terms, and we strongly believe it is better when companies compete fairly in the marketplace, rather than in court," the company said in a statement released Tuesday.
You can share this story on social media: