Bitcoin banned on China's biggest online marketplace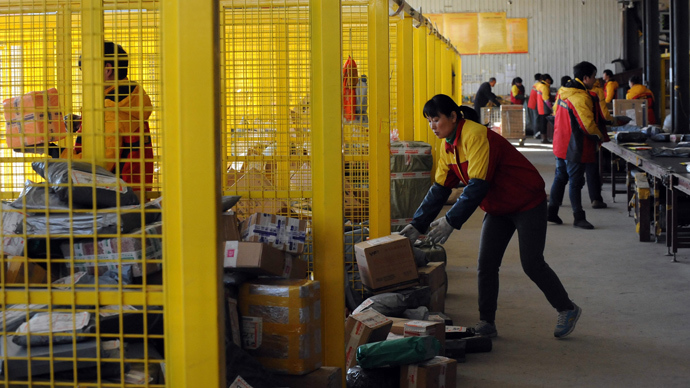 Bitcoin faces a fresh obstacle in China as Alibaba,the country's largest e-commerce group, will ban bitcoin transactions starting January 14.
Alibaba Group Holding Ltd's Taobao, China's largest online marketplace, will not allow any transactions of virtual currencies or related products, the Financial Times reports.
Alibaba Group, an internet group of e-commerce businesses that handled over $170 billion in sales in 2012, expects to hold an initial public offering later this year, and banning bitcoin and steering clear of the sale of counterfeit goods is seen as an extra precaution.
Banning the anonymous virtual currency will "promote the healthy development of the Taobao Marketplace and to more effectively protect the interests of Taobao members," Alibaba said in a statement posted on its website on Tuesday.
Users will not only be barred from buying and selling bitcoins, but all related activities, including "mining" the currency, which is the creation of new bitcoins through solving complex logarithmic equations.
The move is part of a larger government crackdown on the cryptocurrency, which has fast gained traction in China, the world's second-largest economy and home to the largest bitcoin trading platforms.
In December, the People's Bank of China banned third party sales of bitcoin, and placed a ban on financial institutions dealing with bitcoin, ordering them to halt activities by January 31, the beginning of the Chinese New Year holiday.
After hitting a $1000 high in December, prices plummeted on the Central Bank's announcement, but has since rebounded, after Zynga, the provider of social network games such as FarmVille, said it would accept the digital money in some of its titles.
Bitcoin has faced harsh criticism from governing bodies in Europe, India, and in the US, with regulators skeptical of the cryptocurrency.
Since its creation in 2008 by a man using the alias Satoshi Nakmoto, bitcoin has gone mainstream and can be used to buy coffee, pay for online dating services, and can even be retrieved from an ATM. There are more than 12 million bitcoins in circulation worldwide.
You can share this story on social media: