European watchdog rings alarm bells over bitcoin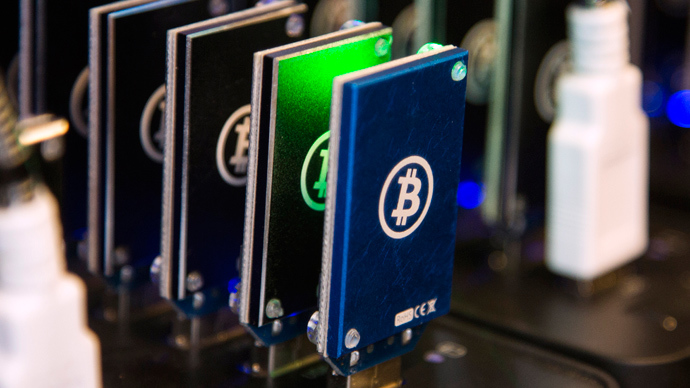 The EU banking regulator has warned of a "possible risk" using virtual currency such as bitcoin, which is program code and isn't regulated by any country, as the virtual currency doesn't offer any protection to consumers or mechanism for compensation.
The European Banking Authority (EBA) is studying the opportunities and needs of the new economic sector. In case of any problems with their investment, users of virtual currencies such as bitcoin will have to solve any problems themselves.
"Currently, no specific regulatory protections exist in the EU that would protect consumers from financial losses if a platform that exchanges or holds virtual currencies fails or goes out of business," the EBA said in a statement.
The regulator emphasized that digital currencies are facing sharp fluctuations in exchange rates. In the last month the bitcoin market price has varied between less than $300 to over $1000 per unit.
"Cases have been reported of consumers losing significant amounts of the virtual currency, with little prospect of having it returned. Also, when using virtual currency for commercial transactions, consumers are not protected by any refund rights under EU law," said the EBA.
Virtual currency has received a series of positive assessments from global supervisory authorities and prominent experts, however in recent weeks this has been replaced by worries about the increased instability. Some experts even call it a new bubble.
Earlier this month the People's Bank of China warned financial institutions to closely watch the virtual currency bitcoin, because it may increase the risk of fraud and money laundering. The increasingly popular commodity doesn't yet threaten China's financial system; however the action was taken as a precaution.
Bitcoin, one of about hundred virtual currencies in the world, was introduced in January, 2009 and cost then $0.05 per unit. The issue of bitcoins is carried out by authorized computers using the algorithm protected by a code. So, the quantity of bitcoins will never exceed 21 million units. The total will be gradually reached by 2140. About 57 per cent of all bitcoins are already issued, by 2017 there has to be 75 per cent.
The exchange rate of virtual currency depends only on demand. It has no value in itself; neither is it provided with physical assets or government guarantees.
You can share this story on social media: