Russia's Aeroflot net profit falls 53-fold
Published time: 5 Sep, 2012 11:42
Edited time: 5 Sep, 2012 17:52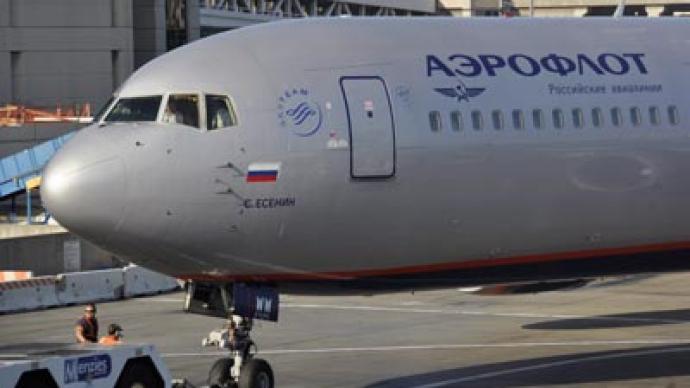 Shortly after securing a position among the World's Top 10 most profitable companies, Russian flag carrier Aeroflot has reported a first-half net profit of $7.1 million which is 53 times less than the $376.8 million a year earlier.
However, revenue for the period from January till June 2012 increased by 54%, at $3.6 billion, beating analysts' forecasts. The state-owned company didn't attribute the fall in profits to any concrete reason, saying only that its results were impacted by the consolidation of four airlines it took over at the end of last year.
In August, Aeroflot moved higher on the list of the World's Top 10 most profitable companies by Air Transport World (ATW) magazine, after its net profit for 2011 doubled compared to the same period the year before reaching $491.3 million. The Russian government owns 51% of Aeroflot and plans to privatize its stake by 2016.
In another development the U.S. Department of Transportation issued a $60,000 fine on Aeroflot for violating its full-fare advertising regulations, saying airfare searches of the Russian carrier's website did not include additional government taxes and fees with base fares.
Aeroflot was also found to be in violation of a rule requiring airlines to include a commitment in its customer service plans giving consumers the option to either hold reservations at the quoted fare without penalty or cancel without penalty for 24 hours after they book a flight.
The airline has also been in trouble over its advertising, with a new campaign on billboards enticing visitors with Moscow's cathedrals, nuclear missiles and military trucks causing a controversy.