Aeroflot will sponsor Russia's CSKA football club
Published time: 11 Jul, 2012 11:06
Edited time: 11 Jul, 2012 15:06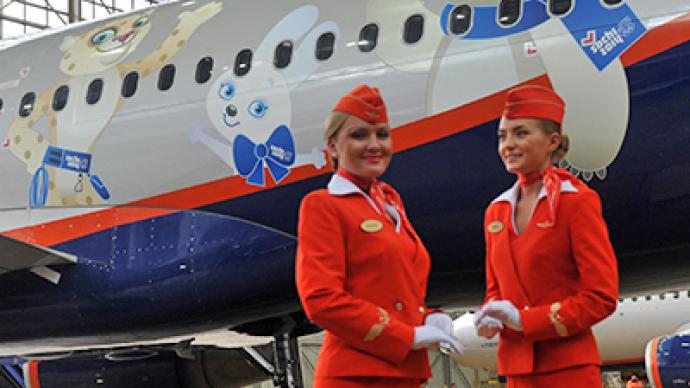 Russian flagship air carrier Aeroflot is to become a main sponsor for Moscow's CSKA football club. It will cost the airline $9 million a year, but will help to promote its brand in Europe.
Aeroflot declined to comment, though players of the CSKA football team who had a friendly meeting with the Turkish "Bursaspor" on Monday were wearing T-shirts reading "Aeroflot" reports Kommersant daily newspaper.
Aeroflot had been a major sponsor of CSKA in 2009, with the sponsorship contract, according to Kommersant daily, worth about $5 million.

The carrier has since never stopped financing the football team as a partner and an official carrier providing the CSKA team with an Airbus A320 aircraft. 
Oil company Bashneft financed the club for about 2 years until last season, and has refused to give reasons for not extending the sponsorship.
Sources close to the company said the decision to support the club had been taken by its major shareholder AFK Systema. Now the company has decided to spend the money on other needs of the oil firm and ended the deal which according to some source was about $ 6 million a year.
CSKA Moscow is one of the most popular Russian football clubs, with many die-hard fans sitting in the VIP zones during the football matches and presenting a perfect target audience for Aeroflot.
Aeroflot is the only airline to sponsor a football club in Russia. Elsewhere Emirates Airlines support UK's Arsenal club and Italian Milan, and Etihad is the general sponsor of Manchester City.
The $9 million spent on CSKA is more than the $5 million LUKOIL gives to Spartak football club. Zenith football club is getting about $19 million from Gazprom Neft, while Russian Railways is topping the sponsorship list allocating a whopping $30 million to Locomotiv of Moscow.

Kommersant daily newspaper quotes analysts as saying that the contract with Aeroflot has nothing to do with charity, as it often seems the case with Russian football. The sponsorship deal can be an effective tool for brand promotion. 
CEO of consulting group RSCM Vlas Larkin says, Aeroflot is "in the European trend," and, unlike other sponsorship deals in Russian football which aim to support the club, not serve a sponsor, Aeroflot's sponsorship contract can be really effective in terms of promotion of the carrier's flights.