Brazil takes US crown in critical crop exports
American farmers dominated the international corn market for more than 50 years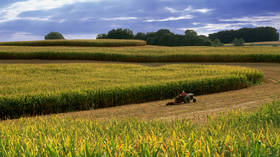 Brazilian corn growers have managed to dethrone the US as the world's number one exporter of corn, Bloomberg reported last week, adding that the South American nation would account for about 32% of global exports of the staple crop in the 2023 agricultural year.
According to the data from the US Department of Agriculture, as cited by the media, the US will account for only 23% of global corn exports in the agricultural year that ended August 31, well below the new leading exporter.
Brazil is expected to keep the leadership in the 2024 harvest year that begins on September 1. In recent years, the US dropped out of the first spot in the ranking just once – in 2013 – due to a devastating drought. Before that, the nation's corn producers spent two back-to-back years in second place in the early 1960s during the Kennedy administration.
Over the last decade, American agricultural producers have relinquished the top spot in soybean and wheat shipments. Brazil managed to take the lead in exports of soybeans in 2013. The following year, the European Union and Russia began undermining the US' global wheat dominance.
The shift is reportedly attributed to rising labor and logistical costs in the US, a shortage of open farmland, the negative impact of a long-standing trade war with China, and a strong US dollar.
The US still accounts for nearly one-third of global soybean exports, but it is only the fifth-largest wheat exporter, with a single-digit share worldwide.
US authorities have been encouraging using domestically grown corn for ethanol added to gasoline. Around 40% of corn grown in the country currently goes to supply domestic mills making ethanol for use as a transportation fuel. Surpluses can sit in grain elevators for future use for years, awaiting better prices.
Meanwhile, with its warmer climate and a weak local currency, Brazil has been upgrading ports and infrastructure, eliminating earlier logistics gaps. Moreover, corn growers in the South American country produce two harvests a year, giving them a competitive advantage over US farmers.
For more stories on economy & finance visit RT's business section
You can share this story on social media: