Goldman Sachs predicts 'all-time-high' oil demand
Growing global uncertainty will drive prices higher and cause large deficits in the near-term, the investment bank has warned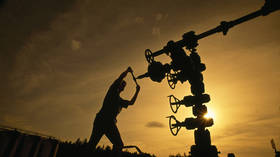 American investment banking giant Goldman Sachs has warned that the global oil market will see record-high demand, large deficits, and higher crude prices in the near term, due to low rig count in the US and uncertainty about long-run oil demand.
Speaking to CNBC's news show "Squawk Box Asia" on Monday, Goldman's head of oil research Daan Struyven said that the bank expected "pretty sizable deficits" in the second half of this year as demand would reach "an all-time high."
The investment bank forecasts that Brent crude, a major benchmark, will rise from the current level of just above $80 per barrel to $86 per barrel by year-end, he added.
According to Struyven, while US crude production increased substantially over the past year, the growth rate will slow down for the remainder of 2023 due to a decline in the number of rigs.
It was reported last week that the US oil rig count fell to the lowest level since March 2022.
According to Struyven, the failure of the G20 energy ministers to reach a consensus on phasing out fossil fuels at last week's summit in India indicates "very substantial" uncertainty about long-run oil demand.
The International Energy Agency said on Saturday it expected oil markets to tighten in the second half of the year. In its latest report, the agency scaled down its global oil demand growth projections. However, IEA head Fatih Birol said the projections could be revised up based on the economic growth of China and some other countries.
Oil prices rallied for most of 2022 due partly to western sanctions on Russia, a major producer. Towards the end of the year however, prices dropped significantly, partly due to a mild winter in Europe and a decline in economic activity across the globe.
OPEC+, which comprises the Organization of the Petroleum Exporting Countries (OPEC), and allies including Russia, agreed in October to cut its output by about 2% of world demand, from November until the end of 2023. The group later agreed further curbs in an effort to balance prices.
Brent crude futures topped $82 a barrel on Monday, while US West Texas Intermediate (WTI) futures were trading at over $78 per barrel.
For more stories on economy & finance visit RT's business section
You can share this story on social media: