Russia proposes alternative to EU clearing houses
A new securities depository exchange in the Persian Gulf could replace Euroclear and Clearstream, a top banker has said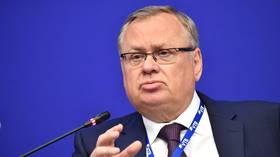 An international depository settlement hub should be created in the Persian Gulf to provide an alternative to EU securities transactions companies Euroclear and Clearstream, the CEO of Russia's second-largest bank VTB, Andrey Kostin, said on Thursday.
Belgium's Euroclear and Luxembourg's Clearstream are holding billions of Russia's Central Bank assets that were frozen last year due to Western sanctions against Moscow. The bulk of the seized funds is at Euroclear, where it reportedly generated around €750 million in interest during the first quarter of the year.
"We've all faced the Euroclear and Clearstream problem. We believe that one of the Persian Gulf states could host the new financial depository, given the concentration of the capital in that region," Kostin said, at the Bank of Russia Financial Congress in St. Petersburg.
Euroclear settles securities trades on European exchanges and serves as a securities central depository for financial institutions operating in Europe. The company ceased transactions with Russia's National Settlement Depository (NSD) and blocked NSD accounts within its system in line with sanctions against the Russian clearing house imposed in mid-2022. The move effectively made Russians unable to access their assets held within Euroclear. It has been estimated that Russian assets stuck at Euroclear amount to €196.6 billion ($211.1 billion), the vast majority of which is owned by the country's central bank.
Kostin also called for an alternative to SWIFT, the international financial messaging system. Russian banks were cut off SWIFT last year, which made it impossible for them to carry out transactions with foreign financial institutions.
According to the banker, new tools to attract capital should also be developed.
"Today it's mostly Eurobonds. The entire financial infrastructure is built in the West. We propose to create new instruments which would respond to the needs of national currency and market regulation," Kostin explained. The new financial infrastructure will attract Western investors and companies, he added.
Following the imposition of sanctions against it, Russia and its trading partners among developing nations have intensified efforts to reduce the use of the Western financial system and replace the US dollar and the euro with national currencies for settlements in trade. The trend is supported by the members of BRICS, the economic bloc uniting Brazil, Russia, India, China and South Africa, and many other nations who want to join the union. Among the currencies that have been used instead of the US dollar are the Russian ruble, Chinese yuan, and UAE dirham.
For more stories on economy & finance visit RT's business section
You can share this story on social media: