US to ban investment in Chinese high tech – WSJ
Lawmakers are reportedly working to restrict financing advanced technologies abroad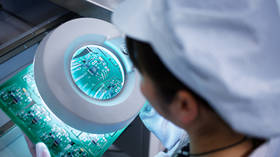 Washington plans to prohibit American investment in the high-tech sectors of rival economies, The Wall Street Journal reported on Friday, citing sources and reports on the proposed regulation from the US Treasury and Commerce Department.
The restrictions will likely target private and venture capital investments in the production of semiconductors, artificial intelligence and quantum computing, and will mostly be aimed against China, sources close to the discussions about the new regulations told the news outlet.
The WSJ notes, however, that the reports do not name specific countries that will be affected by the measures nor the economic sectors seen as posing a risk to US national security. However, the outlet notes that the focus will be on sectors that could increase the military capabilities of US rivals.
The Treasury report, for instance, said the new foreign investment rules will focus on "preventing US capital and expertise from being exploited in ways that threaten our national security while not placing an undue burden on US investors and businesses."
Washington has reportedly been working on the new regulations for several months, with the Treasury pushing for the restrictions to focus strictly on national security risks, and not create an unfair economic advantage.
The investment regulation will be yet another step in the US efforts to halt China's technological advancement, which Washington perceives as dangerous. Late last year, for instance, the administration of President Joe Biden imposed export controls to prevent China from obtaining high-end US technology, which Washington claims could be used for military purposes. In response, Beijing appealed to the World Trade Organization with a formal complaint, arguing that US export curbs "undermine the international economic and trade order."
For more stories on economy & finance visit RT's business section
You can share this story on social media: