China dominates global tech race – report
Beijing has a "stunning lead" over the US in most crucial technologies, according to researcher ASPI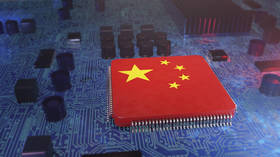 China is leading the world in 37 out of 44 critical and emerging technologies, a Australian Strategic Policy Institute (ASPI) study showed on Thursday. According to the security think tank, Beijing has now positioned itself as the world's leading science and technology superpower.
ASPI's Critical Technology Tracker covers a range of crucial fields spanning defense, space, robotics, energy, the environment, biotechnology, artificial intelligence (AI), advanced materials and key quantum technology areas. The report pointed out that in some fields, all of the world's top 10 research institutions are based in China.
It also found that a key area in which China excels is defense and space-related technologies. "China's strides in nuclear-capable hypersonic missiles reportedly took US intelligence by surprise in August 2021," ASPI stated.
It indicated that over the past five years, China generated 48.49% of the world's high-impact research papers into advanced aircraft engines, including hypersonics.
The study, which was funded by the US State Department, found that the United States was often second-ranked in that race, although it led global research in high-performance computing, quantum computing and vaccines. "Our dataset reveals that there's a large gap between China and the US, as the leading two countries, and everyone else," it stressed.
"Western democracies are losing the global technological competition, including the race for scientific and research breakthroughs," the report concluded, calling for greater research investment by those governments.
For more stories on economy & finance visit RT's business section
You can share this story on social media: