US ready 'to do more pain' to China's Huawei – WSJ
Washington reportedly plans to halt export licenses to the tech company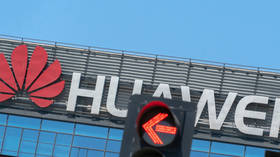 The US government is considering annulling existing licenses for American firms to export items to Chinese telecom giant Huawei Technologies, the Wall Street Journal reported on Tuesday, citing its sources.
According to the report, the measure could be viewed as broader tightening of technology trade on national security grounds.
"The policy that had allowed exports to Huawei, notwithstanding the entity listing, is being wound down," an unnamed former senior security official familiar with the matter was quoted as saying. "The White House is now telling Commerce, 'Cut off the 4G sales, the time has come to do more pain to Huawei, to try to finish their demise,'" he reportedly stated.
Huawei has been subjected to American export restrictions on items for 5G and other technologies for several years, but the US Department of Commerce has granted licenses for some American companies to sell certain goods and technologies to the Chinese firm.
However recently, Washington indicated that it was considering not granting any such export licenses to companies such as Qualcomm and Intel, which produce chips needed for smartphones and other devices.
Huawei was placed on a US trade blacklist in 2019, with most American suppliers barred from shipping goods and technology to the company unless they were granted licenses. The measure is aimed at cutting off the Chinese company's ability to buy or design the semiconductor chips that power most of its products.
Tensions between the US and China, the world's two largest economies, have been on the rise as they compete for domination in key technology areas, including semiconductors. In October, the Biden administration unveiled sweeping restrictions on China's ability to buy semiconductors and chip-making equipment, placing the country's companies on a list for further scrutiny.
For more stories on economy & finance visit RT's business section
You can share this story on social media: