Bear market already here, brace for 20% stock plunge – Ned Davis Research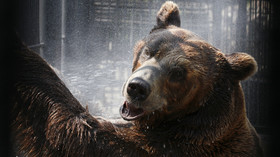 The wild trading that has gripped Wall Street is no ordinary stock market correction but an official bear market, according to Ned Davis Research. It warned the market may soon get hit with another batch of discouraging news.
"If you take this as a typical bear market, not associated with a recession, it's going to take you down around 20 percent — maybe a little bit more," the firm's chief US market strategist Ed Clissold told CNBC. "That's what we need to be thinking about over the next several months."
Bear market is a general decline in the stock market over a period of time when overwhelming pessimism sparks a 20-percent drop or more from recent highs.
Also on rt.com
Fed injecting 'monetary heroin' into economy created biggest bubble ever – Schiff to RT's Boom Bust
The benchmark S&P 500 index closed in correction territory on Friday, at 2,633.08, after 588 points were wiped out from its all-time high of 2,940.91.
Clissold originally projected a bear market to hit Wall Street in 2019, due to jitters over interest rate hike risks, US-China trade tensions, as well as slowing growth in earnings and the economy.
READ MORE: Market mayhem: Dow down 550 points, tech wrecked, losing over $1tn in value
The strategist decided to move up his forecast due to "severe" technical damage from the October correction. "Earnings growth is becoming a front-burner issue. Everybody expected it to slow down next year because we don't have the benefit of tax cuts. But the slowdown is probably going to be more than expected," said Clissold.
Also on rt.com
Dow plunges 700 points after Huawei exec's arrest, fears grow over US-China trade relations
He explained that earnings revisions have "already started to come down, and that's going to continue to plague the market for a few more months."
By spring, Clissold said, the pain will be largely behind Wall Street. "The average nonrecession bear lasts about seven months. So, that'll take us into early second quarter, and then we can look for a bottoming process from there."
He expects stocks to make a healthy rally in the second half of 2019 and the market to ultimately see high single-digit to low double-digit gains by the end of next year.
For more stories on economy & finance visit RT's business section
You can share this story on social media: