Market mayhem: Dow down 550 points, tech wrecked, losing over $1tn in value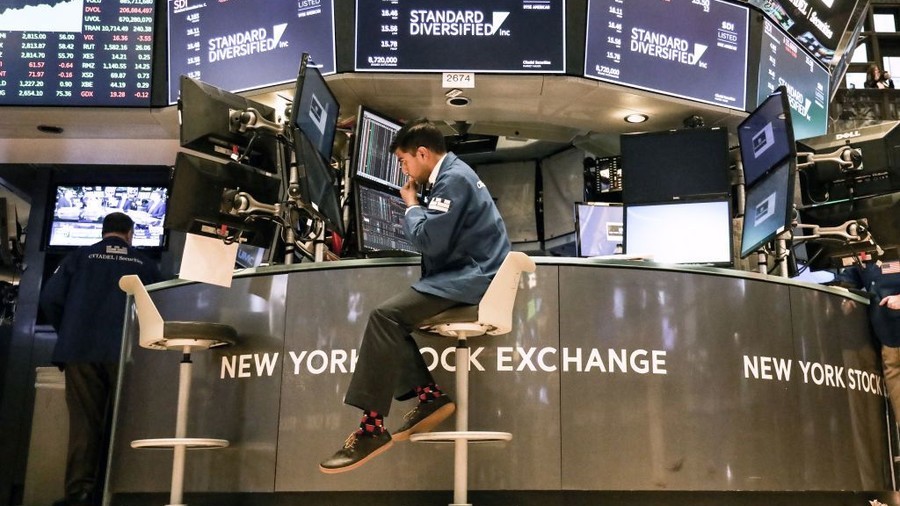 Stocks continued to crash on Wednesday, led in part by a decline in US technology shares, which had helped to propel Wall Street's long bull market.
Asian markets fell following a two-day sell-off on Wall Street. The Shanghai Composite Index was down 0.05 percent, while Japan's Nikkei fell 0.35 percent. Earlier on Tuesday, the Nasdaq closed at its lowest in more than seven months with the S&P 500 and the Dow Jones finished at their weakest levels since late October.
US stocks are already in a bear market, Morgan Stanley warned, explaining that more than 40 percent of the S&P 500 is down 20 percent from recent highs. Wall Street defines a bear market as a fall of 20 percent or more from a stock's 52-week high.
Hey Guys, here is the new episode of our @welt Podcast. We discuss the curse of bigness & whether FAANG will ruin our mkts & democracy. We argue whether Hartz IV is asocial or the secret of the German econ miracle. Just hear, share, & leave us some reviews https://t.co/zFiCuoxh6Fpic.twitter.com/cR1FQmszGv

— Holger Zschaepitz (@Schuldensuehner) November 21, 2018
"The market is speaking loudly that bad news is coming," said Morgan Stanley equity strategist Michael Wilson.
As investors continued to flee from the tech darlings that once carried the market higher, the five "FAANG" (Facebook, Amazon, Apple, Netflix and Google-parent Alphabet) stocks closed in bear-market territory on Monday. The tech majors collectively lost more than $1 trillion in market value from recent highs on an intraday basis. Apple led the group's losses, falling 4.8 percent.
Experts say the losses have been sparked by concerns, including higher interest rates, crashing oil prices, and the US-China trade war.
"We are anticipating more weakness in China and a sharp slowdown in the United States next year," economists at Capital Economics told Reuters. "Given the highly cyclical nature of the information technology (IT) sector, we have been arguing for a while that growth in its earnings would be hit especially hard in these circumstances," they said.
Goldman Sachs Chief US Equity Strategist David Kostin wrote to clients: "Put simply, stocks have already started to price in the risk of an economic slowdown."
US President Donald Trump said on Tuesday that the US economy is "doing great," but urged the Federal Reserve to keep interest rates low.
"I think we have much more of a Fed problem than we do with anyone else," Trump told reporters.
Some analysts, however, believe the market mayhem concern is overdone. "I don't think we're headed for a recession," David Kelly, chief global strategist at JPMorgan told CNN Business. "The slowdown in the economy and the trouble in the market is going to stay the Fed's hand."
The strategist said he thinks the Trump administration will also "pull back" from the US-China trade war if it sees that the risk is a potential recession.
For more stories on economy & finance visit RT's business section
You can share this story on social media: