Dow plunges 700 points after Huawei exec's arrest, fears grow over US-China trade relations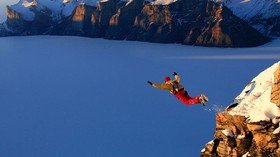 The Dow Jones fell more than 700 points on Thursday, as news broke of Huawei CFO Meng Wanzhou's arrest and planned extradition to the US. The drop brings the Dow's 2-day losses to 1,500 points.
Meng was arrested in Vancouver, Canada, on Sunday, and now faces extradition to the United States. The charges against Meng - the daughter of the telecoms company's founder - remain unknown, but could relate to a possible violation of sanctions against Iran.
The Huawei executive's arrest comes at a critical time for US-China relations. Both countries have been locked into a trade war for much of the year, and only agreed last weekend to restart discussions. President Trump has agreed to postpone planned tariff hikes on Chinese goods, while China has pledged to purchase a "very substantial" amount of American produce and curb the export of deadly opioid Fentanyl to the US in exchange.
Representatives from both countries now have just short of 90 days to negotiate, unless the timeframe is extended or a deal reached beforehand.
While stocks rallied on Monday, lingering uncertainty surrounding the precise details of the trade war truce have seen the Dow slump since.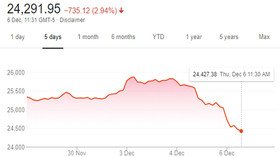 Meng's arrest could have a significant effect on markets and on US-China relations.
Huawei is one of the world's largest telecoms companies, and is the world's second-largest smartphone manufacturer behind Samsung. The company has been accused of using its devices to pass on information to the Chinese government, prompting the US Department of Defense to ban their sale on military bases.
Earlier this year, six top US intelligence chiefs voiced their concerns about Huawei phones to the Senate Intelligence Committee, with FBI Director Christopher Wray saying he was "deeply concerned about the risks of allowing any company or entity that is beholden to foreign governments that don't share our values to gain positions of power inside our telecommunications networks."
Also on rt.com
'Clarify and release immediately', Beijing demands after Canada detains Huawei CFO on US request
Top British and New Zealand telecom providers have banned Huawei from their 5G networks, as did the Australian government. All cited national security concerns in barring the Chinese firm from their next-generation networks.
Huawei, for its part, has consistently denied accusations of spying, and responded to the arrest of Meng by saying it complies with "all applicable laws and regulations" where it operates.
While we debate who's done what for/against #MichelExtradited Dow Jones has tanked another 700 points over arrest of Huawei CFO in Canada on US extradition request. China is incensed & confrontation looms. It spooks markets as it eliminates any gain from Trump-Xi mtng.

— K. C. Singh (@ambkcsingh) December 6, 2018
Beijing has called for Meng's release, and the Chinese embassy in Canada said that her arrest "seriously harmed the human rights of the victim." Meng, it said, was "not violating any American or Canadian law."
Thursday's stock drop also comes as fears of a global economic slowdown circulate. DoubleLine Capital CEO Jeffrey Gundlach told Reuters on Tuesday that the US economy is "poised to weaken." Signals from the markets include the yield on three-year treasury bonds surpassing those on five-year bonds on Monday. This sign is usually interpreted by traders as an indicator of coming recession.
In Europe, Bloomberg reported Thursday that the European Central Bank is set to lower GDP forecasts, in light of arguments between Italy and Brussels and a slump in oil prices.
For more stories on economy & finance visit RT's business section
You can share this story on social media: