US vows to maintain pressure on China amid wide condemnation of protectionism at APEC summit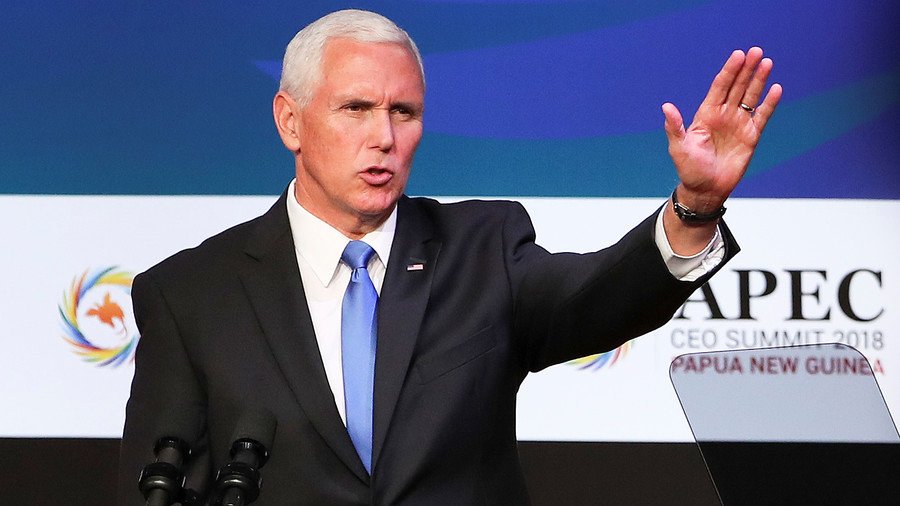 Washington will not change its pressure tactics against Beijing until it bows to US terms, Vice President Mike Pence said at an APEC summit, where members loudly denounced protectionism and sanctions as threats to global trade.
"The US will not change course until China changes its ways," Pence said Saturday, speaking at an Asia Pacific Economic Co-operation (APEC) summit in Papua New Guinea, where he touted the "decisive action" taken by the US to address trade imbalance with China.
We put tariffs on $250 billion in Chinese goods, and we could more than double that number
Implementing the American vision of fair and reciprocal trade with China remains one of the main objectives the White House is pursuing, in addition to intellectual property protection and challenging Beijing's power in the Pacific.
The Sino-American trade conflict escalated with a series of tit-for-tat tariff hikes, now targeting in total some $260 billion-worth of bilaterally traded goods. While Trump threatened to slap China with another $267 billion in tariffs to fix last year's $375 billion trade deficit with the world's second-biggest economy, Beijing has repeatedly urged Washington to stop its protectionist tactics and play by the WTO rules.
"Attempts to erect barriers and cut close economic ties work against the laws of economics and the trends of history. This is a short-sighted approach and it is doomed to failure," Chinese President Xi Jinping said Saturday before Pence's remarks. "We should say no to protectionism and unilateralism."
Xi called on the US to try to resolve issues through consultation based on the principle of "equality," warning the US against escalating tensions and potential damage to global trade.
History has shown that confrontation –whether in the form of a cold war, hot war or trade war– will produce no winners
Donald Trump's harsh 'America First' policies and sanctions used as an instrument of economic pressure against members of the global community were also criticized by other officials during the gathering in Papua New Guinea.
READ MORE: VP Pence said to be gearing up for all-out Cold War with China unless it bows to all US demands
"In some states, protectionist sentiments are growing, which materialize... into concrete decisions that can lead and, we must say bluntly, have already led to trade wars," Russian Prime Minister Dmitry Medvedev noted.
Economic sanctions have become an instrument of political pressure and unfair competition, all of which together can create complex, difficult consequences
Medvedev and Xi were not the only ones to reject US protectionism. Australian Prime Minister Scott Morrison, for instance, urged leaders to defend free trade. "Tit-for-tat protectionism and threats of trade wars are in the interests of no-one economically," Morrison said. "They undermine the authority of the global and regional trading rules that benefit us all."
Like this story? Share it with a friend!
You can share this story on social media: