EU agrees to buy more US soy, import more liquified gas - Trump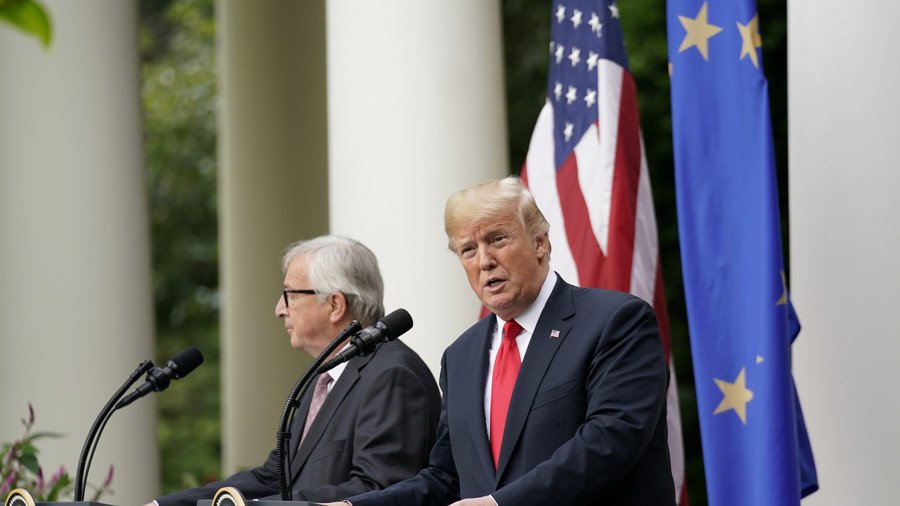 European Commission president Jean-Claude Juncker appears to have made several concessions to US President Donald Trump in an effort to avoid a trade war, including buying more US soybeans and LNG.
Juncker visited Washington on Wednesday to talk trade with Trump, who insisted on reciprocal trade relations with the EU.
"I came to make a deal, and we made a deal today," Juncker said on Wednesday at the White House.
He confirmed that the EU will build more terminals in order to import liquid natural gas (LNG) from the US. LNG has to be delivered by ship to specialized facilities, unlike the natural gas currently being delivered to Europe from Russia.
Trump announced that the EU will be buying "a lot more" soybeans from the US, and that Brussels and Washington will work to eliminate tariffs, barriers and subsidies on "non-auto industrial goods."
US and EU have been in loggerheads over trade after US announced tariffs on steel and aluminum in March, provoking a response from Brussels after they were introduced later. Before the talks with Juncker, Trump has threatened to impose additional penalties on trading partners as he prepares for talks with European officials at the White House.
In a Tuesday morning tweet, he called tariffs "the greatest," saying every US trade partner should either negotiate a "fair deal, or it gets hit with Tariffs. It's as simple as that."
The US and the EU will also team up to address "unfair trade practices" at the World Trade Organization, Trump said, listing his long-standing complaints about China such as intellectual property theft and technology transfers. Trump has been bashing the World Trade Organization for months sparking concerns that his actions would undermine the global trade.
"We will not go against the spirit of this agreement unless either party terminates this negotiation," the US president said, adding that the next step will be to withdraw US tariffs on aluminum and steel imposed in May, as well as EU retaliatory tariffs that followed.
The two leaders did not take questions from the press.
Like this story? Share it with a friend!
You can share this story on social media: