Cheaper than ever for England fans to watch their team play in Russia World Cup
Published time: 2 Jul, 2018 13:59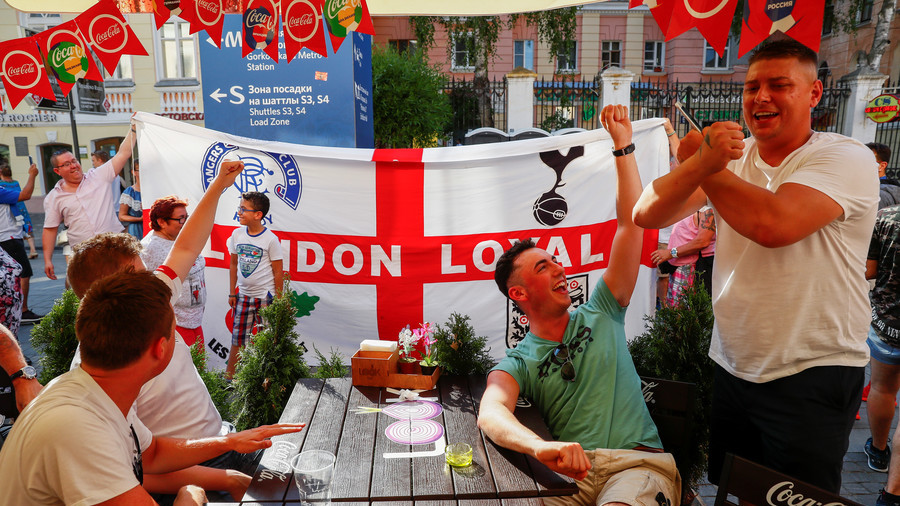 Research from Post Office Travel Money has found that British fans travelling to Russia for the World Cup will benefit from sterling's strength against the ruble.
They will see their cash stretch further as currency fluctuations help to bring down the costs, the study suggested. England fans will get the equivalent of £66 ($86) more cash on a £500 ($655) currency transaction than they would have done a year ago, and £202 ($264) more than five years ago.
The cost of living in Russia is much lower than in the UK, Post Office Travel Money said. Prices in the host nation are less than half of those in France, which hosted the European Championships two years ago. Prices are also 40 percent lower than in Brazil, which staged the last World Cup.
The relatively low cost of food and drink in Russia compared with some other countries also means fans can expect to pay around £1.91 (around $3) for a beer in Russia compared with £3.42 (around $5) in the 2014 Brazil World Cup, the research found.
"We recommend that football fans travelling to the Russian cities where the England team is playing their group matches make sure they carry some rubles," said Andrew Brown, head of travel money at the Post Office.
He added: "We advise fans to budget carefully and ensure they don't run out of money," noting "The important thing is not to leave changing money until it is too late to get a decent exchange rate."
England faces Colombia on Tuesday the round of 16.
For more stories on economy & finance visit RT's business section