China strikes back: Beijing sets 25% tariff on $50 bln worth US products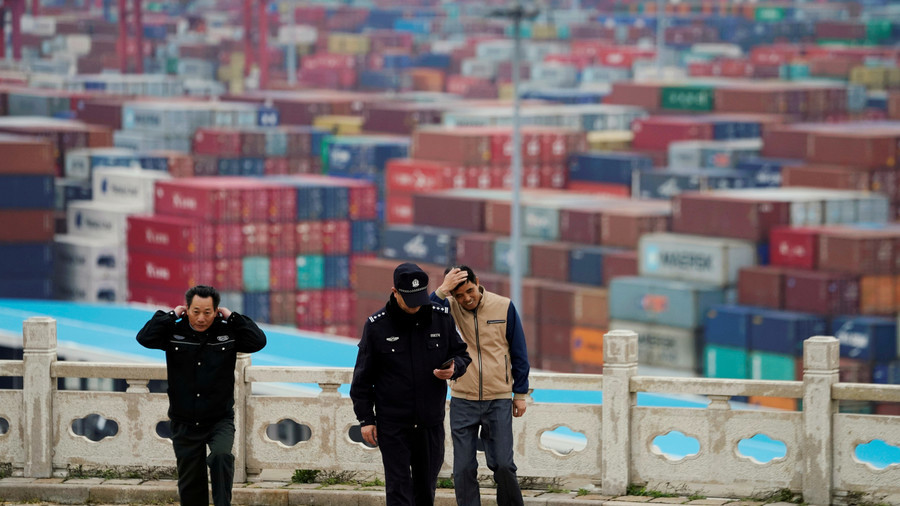 Responding to US President Donald Trump's decision to impose tariffs on $50 billion worth of Chinese imports, Beijing has adopted a 25 percent tariff on 659 American products worth the same amount.
US agricultural products, fish and automobiles worth some $34 billion worth of US goods will kick in on July 6, with another $16 billion worth of products subject to the 25 percent duty at a later date, Xinhua reported citing the Tariff Commission of the State Council.
Beijing's move is a tit-for-tat response to the US imposition of a 25 percent tariff on Chinese products announced Friday. The first package of revised US tariffs is scheduled to kick in on July 6 and will apply to 818 Chinese product lines, with another 284 product lines to follow at a later date.
In rolling out the tariffs, the US Treasury Department accused China of "theft of intellectual property and technology and its other unfair trade practices."
Beijing rejected that characterization, arguing the US tariffs were against the rules of the World Trade Organization (WTO) and previous trade negotiations.
"It has also seriously damaged China's legitimate rights and interests and has harmed the interests of China and its people," Xinhua reported.

US Treasury Secretary Steven Mnuchin traveled to China last month for a round of trade talks, reportedly demanding that Beijing reduce its trade surplus by $200 billion.
"We are putting the trade war on hold," Mnuchin said at the time, adding that the two countries had agreed on a framework to reduce the trade imbalance. But since then the relations between Washington and Beijing went downhill again.
"China and the US have conducted several rounds of consultations on economic and trade issues in an effort to resolve differences and achieve a win-win situation. The US has kept changing its mind and now launched a trade war," China's Commerce Ministry said in a statement on Friday.
The Chinese tariffs announcement caused the US dollar to lose ground to the Japanese yen, the Euro, and the British pound sterling. The Chinese yuan traded at a five-month low against the dollar, however, according to Reuters. The index measuring the dollar's value against six major currencies was up 1.3 percent for the week, its best performance in almost two months.
The new tariffs apply to meat, seafood, dairy, grains, fruit and vegetables, tobacco and cigarettes, and a wide range of passenger cars and hybrids. Among the specific goods listed by the Chinese government are "unrefined pig fat," coconuts with or without shell, all kinds of rice (including rice flour), frozen orange juice, whiskey, and octopus.
Like this story? Share it with a friend!