No sign of Russia's isolation at opening of St. Petersburg International Economic Forum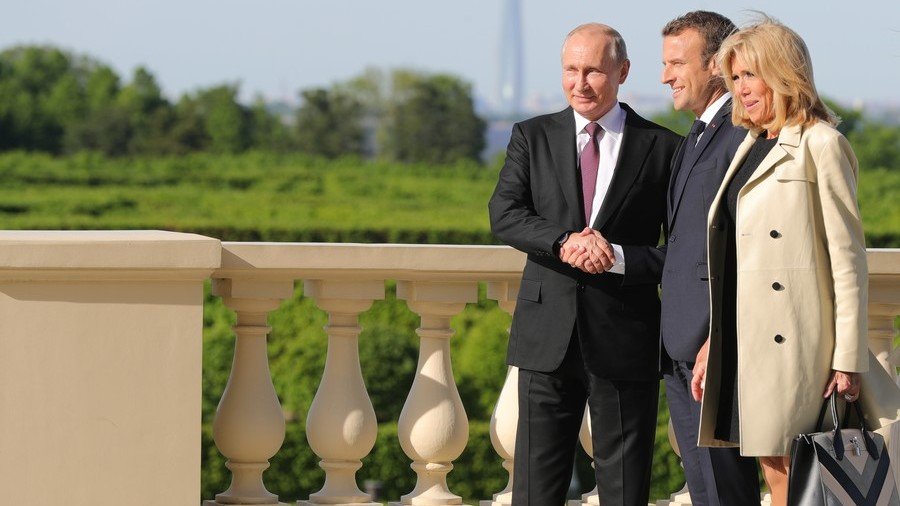 The opening day of the Saint Petersburg International Economic Forum (SPIEF 2018), Russia's annual marquee business event, has seen global leaders in business and politics join a host of multinationals keen to strike deals.
French President Emmanuel Macron, Japanese Prime Minister Shinzo Abe, the head of the International Monetary Fund (IMF) Christine Lagarde, Chinese Vice President Wang Qishan, as well as US Ambassador Jon Huntsman are among those attending.
SPIEF 2018 has become a key business platform, where Russian corporations and investors across the world can sign new contracts and agree on potential joint projects in Russia and abroad.
Russian President Vladimir Putin met President Macron, who led the biggest delegation of French businesses intent on doing business in Russia despite EU and US sanctions against the country.
According to the French embassy in Russia, French businesses will sign up to 20 contracts and cooperation agreements by the end of the forum. This year, President of Movement of Enterprises of France (MEDEF) Pierre Gattaz and Chairman of MEDEF International Frederic Sanchez are reportedly heading the biggest foreign delegation at SPIEF with a total of 170 representatives from 60 companies.
During the first day of the forum, Russian natural gas producer Novatek agreed to sell its 10 percent stake in the Arctic LNG 2 project to France's energy company Total. The overall price tag for the project is set at about $25.5 billion with its annual capacity expected to reach 18 million tons of liquefied natural gas after the plant is launched in 2023. The deal is set to be sealed as soon as next year.
Meanwhile, France's Dalkia Group has clinched a cooperation deal with the Russian Direct Investment Fund (RDIF). The parties are planning to jointly develop energy saving solutions such as high-efficiency systems and resource consumption optimization.
Russian state telecom corporation Rostelecom and Finnish telecommunications multinational Nokia have agreed to create a joint venture to work out solutions for various markets of innovative technologies.
South Korea's Samsung Electronics and Russian retail chain Magnit signed a memorandum of understanding in the field of digital transformation. The companies will collaborate to develop innovative technologies for Russia's retail industry.
At the same time, Russia's Vnesheconombank (VEB) and India's Srei Infrastructure Finance Limited said they would launch Viman Capital, a joint Russian-Indian private equity fund for innovation and technology. The fund will back Russian and Indian tech companies at global markets, primarily in BRICS countries, the Eurasian Economic Union and ASEAN.
The Asian Infrastructure Investment Bank (AIIB) will reportedly participate in the potential projects of Russia's new infrastructural fund, which will be created next year. The fund will be focused on railroads, ports, airports.
Russia's leading companies in the transport industry signed an agreement to establish the Digital Transportation and Logistics (DTL) association. The companies included Russian Railways, Aeroflot, Russian Highways, RT-Invest Transport Systems, ZachitaInfo Trans, Glosav and Delovye Linii. DTL will become the key part of Ministry of Transportation's "Digital Economy" program. Its key task will be the establishment and development of the united multi-modal digital and logistics domain in Russia based on native solutions and software.
The US multinational consumer goods corporation Procter & Gamble has sealed a deal on creating one of the biggest logistics centers in Europe in Russia's southern region of Tula, while the British consulting and advisory firm EY pledged to attract investors to the Western region of Kaliningrad, as well as to exploit its local firms on global markets.
Russian aerospace and defense firm, United Aircraft Corporation, has signed an agreement on supplies of eight Sukhoi Su-30SM fighter aircraft to the air force of neighboring Kazakhstan. The Eurasian Development Bank and state-run Russian Railways have signed a cooperation agreement on the Moscow-Kazan high-speed railway project.
Among other notable deals sealed during the first day of SPIEF were agreements between Russian telecommunications company VimpelCom and Chinese telecommunications and networking equipment multinational Huawei, which also agreed on cooperation with Russian state-owned Sberbank. The state lender's insurance subsidiary also clinched a deal with the US technology giant IBM to use artificial intelligence for treatment of oncological diseases.
Russian technology company MaximaTelecom and an Indian provider of satellite communication systems and services TechnoSatComm have agreed on strategic partnership to create public a WiFi net in Deli's metro system.
For more stories on economy & finance visit RT's business section
You can share this story on social media: