Putin on cyberwarfare: Action causes reaction, you don't like reaction – let's talk rules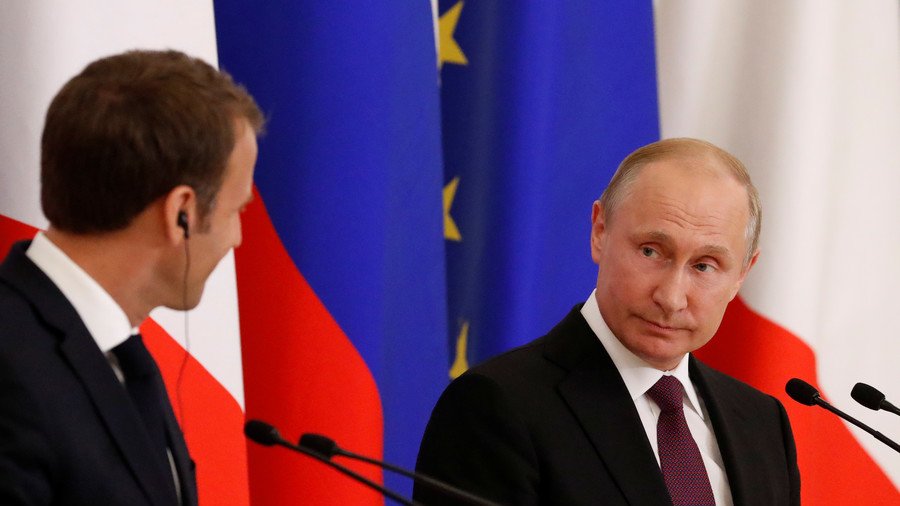 Nations that don't like being the targets of cyberwarfare have the incentive to work on common rules of cyberspace the same way rules for nuclear weapons were negotiated, said the Russian president.
Vladimir Putin made the comparison in response to a journalist's question about the latest accusation in the US that Russia used its cyber capabilities to interfere with the 2016 election during a joint conference with French President Emmanuel Macron.
"This is what I can say about cyberattacks or war of words in the press and other issues. Action always causes reaction. Always. If one does not want to get a reaction he does not like, rules for actions need to be set," he said. "When the humanity invented nuclear weapons, everyone realized how dangerous it is and agreed on rules, which were aimed at preventing a tragedy. It's obvious that cyber now is a most important field affecting millions of people. Let's agree on how we work in it."
Cyberwarfare was one of the key topics discussed by the two presidents in St. Petersburg. France and Russia are trying to work on rules that would regulate how nations behave in cyberspace. Putin and Macron both said that establishing common ground in this area was an urgent goal for global security.
The US has a long record of accusing other nations, including Russia, China, North Korea and Iran, of launching cyberattacks on America, targeting US intellectual property, key infrastructure and democratic institutions. The US itself pretty much acknowledged launching at least one high-profile attack on another nation. The so-called 'Operation Olympic Games,' which was conducted together with Israel, used a tailored computer virus Stuxnet to infect Iranian computer networks and cause damage to uranium enrichment centrifuges, masquerading them as regular technical malfunctions.
The other key part of the talks was the US decision to withdraw from a multilateral deal with Iran, which was adopted in 2015. Despite the US violation of the agreement and a threat of economic sanctions being imposed on companies doing business in Iran, all the other parties to the deal agreed to observe their obligations. The International Atomic Energy Agency has since confirmed that Tehran has been keeping its part of the bargain.
"We never acknowledged any unilateral restrictions. One only needs to read the UN Charter to learn that unilateral sanctions are illegitimate, unlawful. That's it. That was, is and will be our attitude," Putin said.
The French delegation arrived in Russia on Thursday during the two-day St. Petersburg International Economic Forum (SPIEF), the biggest annual business event in Russia, which explains the choice of the host city for his visit. The two nations have signed a number of agreements on economic cooperation, joint energy projects, cultural exchanges and investment.
The conference, which was held late after four-hour negotiations, was remarkably devoid of confrontational spirit, which was palpable during Putin's visit to France last year. Macron even called his Russian counterpart "dear Vladimir" during his speech and said he considered coming to Russia for the FIFA World Cup, especially if the French national team makes it to the final. Both leaders repeatedly stressed the importance of finding common ground, despite the existing differences between Moscow and Paris.
You can share this story on social media: