France recognizes Russia's new role in international relations, including in Middle East – Macron
Russia is irreplaceable in international relations, including in the Middle East, French President Emmanuel Macron said at a joint media conference with Russian President Vladimir Putin in St. Petersburg.
While delivering a lyrical speech that lasted over 20 minutes, starting with the long history of Franco-Russian ties, Macron underlined that France is an independent country and that dialogue with Russia is a "manifestation of this independent position."
"I am perfectly aware of Russia's irreplaceable role in solving international problems," he said after several hours of talks with Putin, where the two discussed Syria and the Iran nuclear deal among other international issues in which both countries are taking an active part.
Read more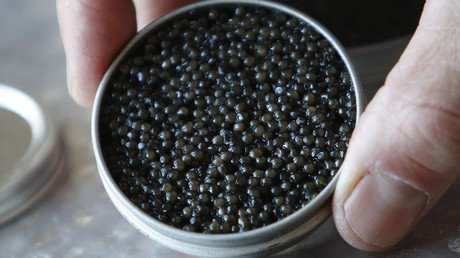 The conference was remarkably devoid of confrontational spirit, which was palpable during Putin's visit to France last year. Macron even called his Russian counterpart "dear Vladimir" during his speech and said he considered coming back to Russia for the FIFA World Cup, especially if the French national team makes it to the final.
The situation in the Middle East was one of the top topics of their negotiations, which lasted more than four hours. Despite the harsh words Moscow and Western capitals have exchanged in the wake of US-led strikes on Syria in April, Putin and Macron were both pushing for a joint mechanism to reach a political solution to the conflict. This mechanism would bring together the efforts of Russia, Turkey and Iran, known as the Astana process, and the action of the "small group" initiated by France, and comprises Britain, Germany, Jordan, the United States and Saudi Arabia.
There has also been an agreement on a joint investigation into the alleged cases of the use of chemical weapons in Syria. Western powers accused Damascus in April of using chemical weapons in eastern Ghouta. Without waiting for an investigation by the OPCW experts, the US, the UK and France then launched airstrikes against Syria.
Read more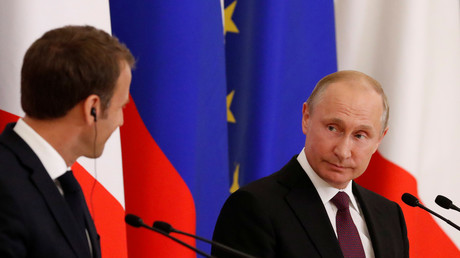 Concerning the Iran nuclear deal, which the US decided to leave despite EU lament, Macron and Putin reiterated that it should remain in effect. The International Atomic Energy Agency (IAEA) has confirmed that Iran was complying with all its provisions.
"Where is the basis for leaving the deal? Consequences would be lamentable," Putin told reporters.

Though Putin was skeptical about adding any elements to the already negotiated deal, Macron proposed "amending" the JCPOA to address Iran's ballistic missile program and activities in the region.
The French president also stated that French companies will keep doing business in Iran despite the threat of US sanctions.
Macron also touched upon the issue of cybersecurity, saying that he agreed with Putin to create a new mechanism to help the two countries tackle issues in this sphere. The Russian president said nations that don't like being the targets of cyberwarfare have the incentive to work on common rules of cyberspace, the same way rules for nuclear weapons were negotiated.
READ MORE: France signs contracts with Russia to invest €1bn
Macron's visit coincides with the St. Petersburg International Economic Forum (SPIEF), during which French and Russian business have signed billion-euro deals.
Think your friends would be interested? Share this story!