'You sign off on genocide': Protesters attack Haley over Palestine (VIDEO)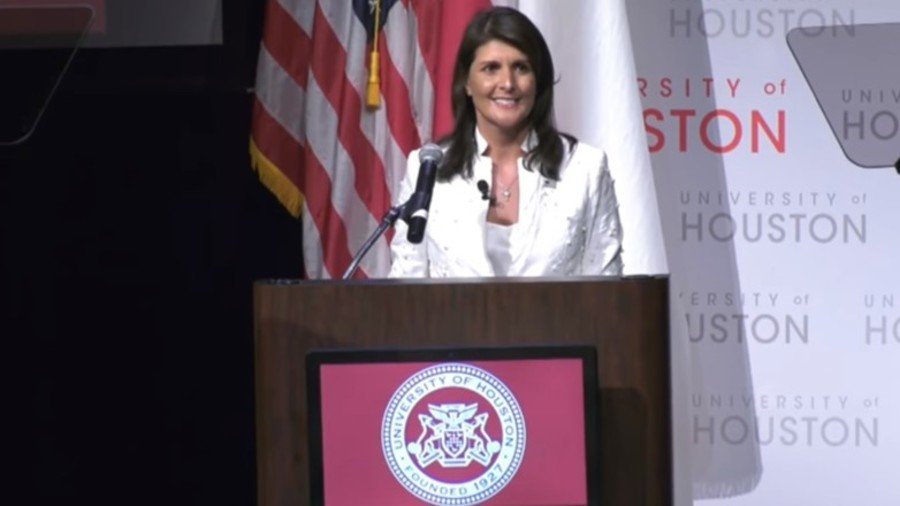 US Ambassador to the UN Nikki Haley received the wrong kind of welcome at the University of Houston when she was met with chants accusing her of having blood on her hands and of signing off on genocide in her support for Israel.
Haley was mere moments into her speech at the university on Tuesday and had just referred to the "very busy few weeks in American foreign policy" when she was interrupted by a protester shouting, "Nikki Haley, the blood is on your hands."
"Oh jeez," a visibly nervous Haley said as the protester continued to shout, "you continue to sign off on the genocide of a native people" to loud applause and booing.
"Nikki, Nikki can't you see, you are on a killing spree!" a number of protesters shouted. "Haley, Haley, you can't hide, you sign off on genocide."
Haley has emerged as a staunch supporter of Israel in her role at the UN. After Israel killed more than 60 Palestinians at the Great Return March protests last week, Haley defended its "restraint" at an emergency meeting of the UN Security Council before walking out of the room when Palestinian envoy Riyad Mansour began speaking.
"Nikki, Nikki you will see, Palestine will be free!" the protesters shouted. Haley looked uncomfortable throughout, a small smile falling from her face as the chants continued.
READ MORE: 'No link between US embassy move & deaths of Palestinians' – Nikki Haley at UNSC
The protest ended with a walkout and loud applause as Haley continued to speak. "While disruptive as that might have been, it's a reason to celebrate, because my husband and my brother are combat veterans and they fought for their right to be able to do that," she said. The irony of the situation, with the protest being against her support for Israel's killing of protesters in Gaza, seems to have escaped her.
Students for Justice in Palestine and 12 other groups released a statement explaining their issue with Haley's presence at the university. "Nikki Haley's spiteful actions before and during her time as ambassador to the United Nations demonstrate her blatant discrimination against Palestinians and blind eye to injustices around the world," it said. "Nikki Haley has worked relentlessly to block the UN Humans Rights investigation into Israel's murderous crimes in Gaza, which resulted in 109 dead and thousands more injured, including children, women and the disabled."
Like this story? Share it with a friend!
You can share this story on social media: