A refugee's lifetime: Palestinian grandmother tells RT of 70 years of Israeli occupation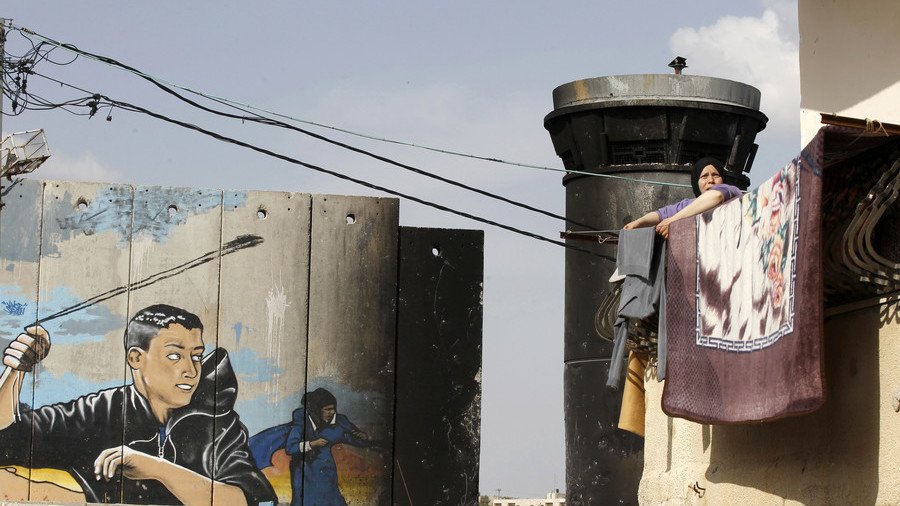 It's been 70 years since the Nakba forced Palestinians off their land and into refugee camps. RT spoke to Mazyounah Abushrour, now a grandmother, who moved into such a camp when she was 15 – and is still living there.
Nakba, or 'catastrophe', is the word Palestinians use to describe the killings and mass exodus of Palestinians from their homes to make way for the establishment of the state of Israel in 1948. Mazyounah Abushrour's native village of Beit Sahour welcomed refugees fleeing from militia when she was a child.
"I watched the refugees coming to the West Bank with no homes. They slept on the street or were hosted by families," said Abushrour. Her father invited refugees to sleep in his shed, while others slept in mosques and schools. At the time, they thought such hospitality would only be needed for a while.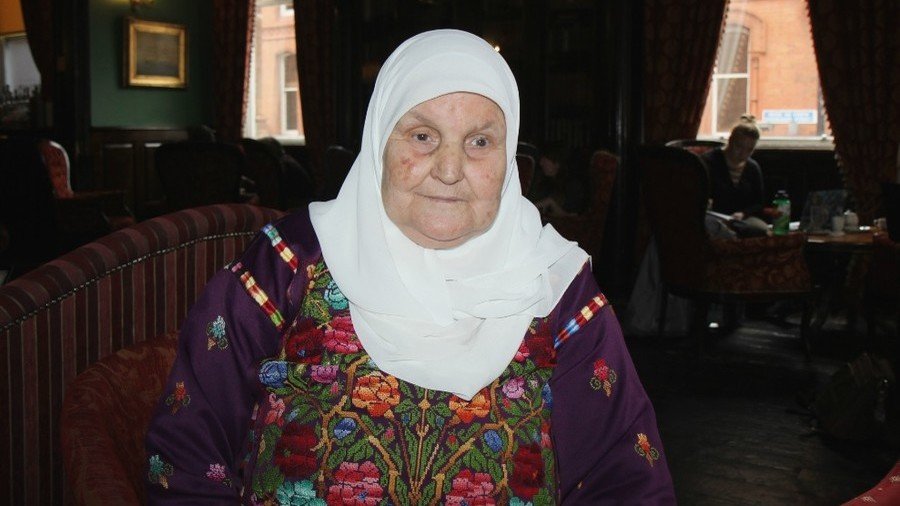 Years later, Mazyouna married one of the refugees, Hassan. "My destiny was to marry one of those refugees," she said. "I got Nakba'ed and we lived the refugee life in the tent."
Once a refugee…
The Aida camp near Bethlehem was established in 1950 by the United Nations Relief Works Agency for Palestine Refugees in the Near East (UNRWA) to house the Palestinian refugees who had left their lives behind to escape violence. Abushrour's married life began in one of the tents there. She recalls how she and her sister-in-law, also married to a refugee, would ask themselves, "Why don't they [their husbands] have pots, and when will they buy us these pots?"
At first, all the refugees were housed in tents, but eventually, those tents grew into concrete rooms, cementing the camp's more permanent existence. Mazyounah, Hassan and six children lived in a 3x3 meter (10x10 feet) room with no water or electricity. Each person was given rations, which included water, beans, rice and sugar.
"There were no toilets in the rooms." Abushrour told RT. "There were four toilets for everyone in the the big camp. Children don't want to walk all the way to the toilet, so they would go in the street, and then the workers would have to clean it up."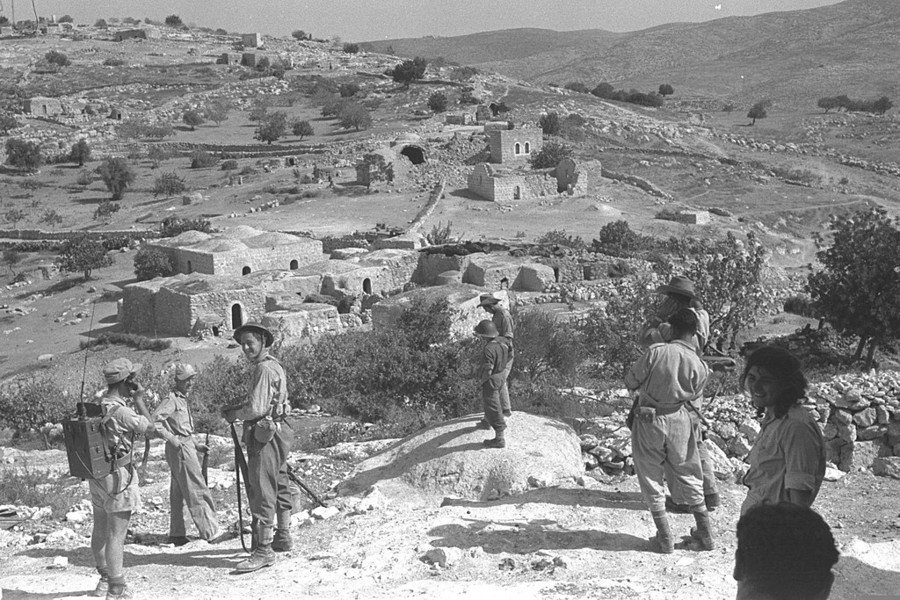 Abushrour remembers that at first, the Israelis didn't enter the camp, but that changed when they discovered a tomb nearby and started occupying the surrounding land. The camp's children then started to resist.
"[The Israelis] wanted to take everything." she said. "They started coming to the camp more frequently. Whenever they came, the kids started throwing stones at them and they started firing."
"The harrassment started and they invaded the camp every now and then with tear gas, bullets," she added. "Then they started to build the wall."
'Siege from both sides'
Israel began building its separation wall in the early 2000s, explaining it was a measure to prevent violence against Israelis. The 8 meter high, 708 kilometer long wall further impedes Palestinians' ability to move freely, and cuts as much as 18 kilometers inside the West Bank, serving to further reduce the Palestinian territories, and, in many cases, cutting Palestinians off from their own farmland.
"Before that, people were able to visit and see each other, but with the wall, it divided us," she said. "They stole all the land to build this wall. They built it as close to the camp, on the Jerusalem side, as they could." The wall separates Aida camp from the only green space nearby.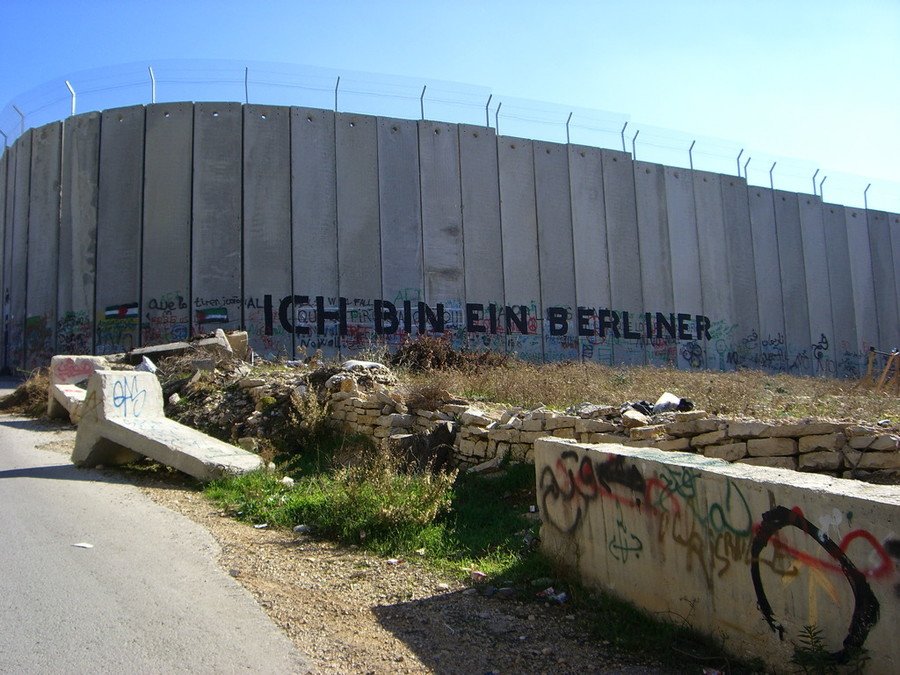 "Then they were able to siege us from both sides," she said. Aida camp also has a gate, which the Israelis would open and enter and start provoking the residents by making announcements and firing tear gas, she said. "At first they used to throw the gas manually, with their hands, but now they come in the gate, get the Jeep in and it's like rain," she said.
Worse than tear gas is Abushrour's account of Israeli forces entering the camp and spraying a smelly substance at its residents. "If you get it on you, you stink and your clothes have to be thrown out because there are chemicals in it," she said. "They just splash people with it, on protesters, even in people's homes, if your windows are open, or the gardens, if you are lucky enough to have one."
Israel began using what it calls "skunk" water in 2008. Shot at high velocity, it is described as a harmless, eco-friendly liquid. But Palestinians say it's gag-inducing stuff worse than sewage.
'They're free to kill us'
"Now they have CCTV everywhere, so they know every move in the camp. They can see everyone and everything." Abushrour said. "They come in the middle of the night, they wake up everybody, they don't care. They damage the house, with knives, they damage the furniture."
READ MORE: Israel's 'war on children' leaves hundreds of Palestinian youngsters imprisoned
"They hit people, they harass them, they arrest the children in front of their parents. They humiliate them and this is frequent behavior of Israeli soldiers."
"They're free to kill us, but if any Palestinians resist, or kill an Israeli, that's a big thing," she said. Abushrour's own son has been in prison for 26 years, after he killed an Israeli intelligence officer in 1993.
Abushrour wasn't allowed to visit her son in for seven years. "In these 26 years, I touched him only three times." she said. The first time she saw her son after seven years, she was allowed to hug him, and collapsed after being overwhelmed. She recalls how one of her friends had a heart attack and died after she was allowed to touch her imprisoned son.
Mazyounah Anushrour's is just one story, and she herself is just one of about 5,500 people who live in Aida camp just two kilometers from Bethlehem. There are almost 200,000 like her scattered over similar camps in the occupied West Bank alone – out of over four million refugees registered by the UN as a result of the Nakba.
Think your friends would be interested? Share this story!
You can share this story on social media: