A short flight to Armageddon: Trump & Netanyahu bringing us closer to end of times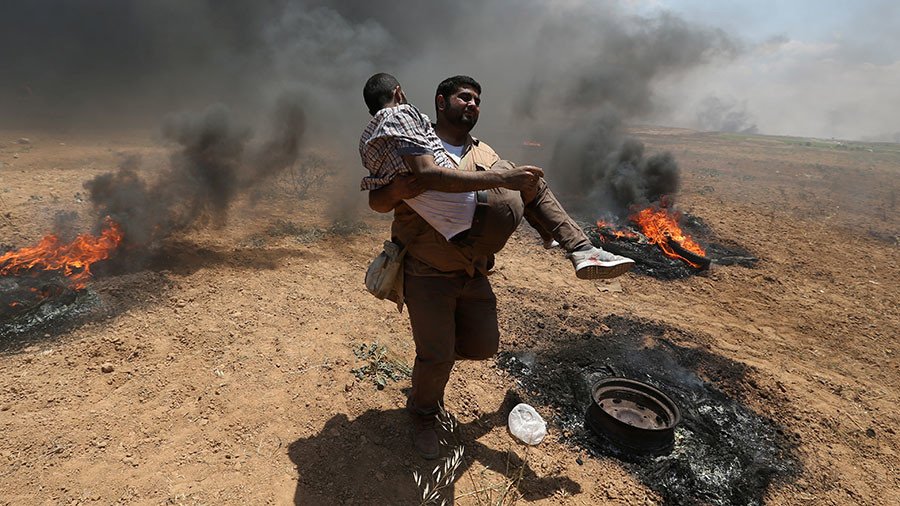 The biblical town of Armageddon is but a few miles as the bullets fly from the site of the latest Gaza massacre which has taken us further down the road to the end of times.
Its proximate cause was the latest Man-Child effort of Donald J Trump, this time to relocate the US embassy in Israel from Tel Aviv, with all the other embassies, to Jerusalem, half of which though annexed by Israel still constitutes Occupied Territory under international law.

It is a criminal offence to "make permanent changes" on "territory acquired by force" – which this territory was in 1967 when Israel seized it by force of arms.

Israel has made many such changes to Occupied Territories. For example, the Golan Heights still belongs to Syria despite the many illegal settlements built there, however much stolen oil is extracted there, or however many field hospitals for Islamic State (IS, formerly ISIS) and Al-Qaeda fighters Israel erects there. That like Jerusalem, the Golan has been illegally annexed makes no difference at all in law nor to every other government in the world. Except Trump's government.
In fact every US president in the last 50 years has promised to move the US embassy to Jerusalem, at least whilst running for election. But campaigning is done in poetry, governing is done in prose and no president has followed through on this pledge. Except Donald Trump.
That his decision would entirely predictably lead to a bloodbath may not have occurred to Trump, but it certainly did to the professionals around him, from those aghast at the State Department to those salivating for the provocation, dripping from the moustache of the likes of John Bolton.
There have been many bloodbaths, of course, but there is reason to believe that this one may be of more lasting significance. It surely hastens the political passing of the Palestinian Authority leader Mahmoud Abbas for whom time and circumstance have run their course. It makes it more likely that the Palestinian Mandela, the prisoner Marwan Barghouti, will enter the race – from behind bars – to be his successor and make more likely his success.
It may – temporarily at least – complicate the all-but-consummated courtship between the Saudi Crown Prince MbS (Mohammad bin Salman) and Prime Minister Netanyahu, enjoined by their mutual antipathy towards Iran but now, inevitably, tempered by the Gaza massacre. The religious establishment in Saudi Arabia and the conservative forces are waiting for their excuse to strike back at the man who allegedly hung his relatives upside down in the Ritz-Carlton until their money fell out of their trouser pockets, and the massacre gives them a perfectly Kosher opportunity to do so.
It makes more difficult any complicity by any Arab ruler with any Israeli provocation against Iran. Many Arabs may be hostile to Iran but, after this week, many have rediscovered their antipathy towards Netanyahu.
The already-vaulting opposition to Israeli crimes against the Palestinians in Western countries – which has led to spectacular successes in the BDS (Boycott, Divestment, Sanctions) movement across several continents – will likely intensify too.
When I joined the movement in solidarity with the Palestinians back in 1975 you could have fitted the supporters of the PLO in Britain into a medium sized hall. Now you couldn't fit them into Hyde Park or indeed all of Central London. Back then there was genuine affection for the State of Israel in all Western countries. Now nobody moves for Israel out of love, only out of interest. And interest too is waning.
The US is now defunct as a broker in the Middle East, that mantle surely passed smoothly to Russia this week.
For Trump and Netanyahu – on whom both their respective police forces may be closing fast – there is no way back. That they are steeped in blood so far that none could tell whether it is bloodier to go on or to go o'er is self-evident. Trump tweeted on the morning of the massacre that "This is a big day for Israel, a big day." For once he was quite accurate. Just not in the way he could possibly have imagined.
The statements, views and opinions expressed in this column are solely those of the author and do not necessarily represent those of RT.
You can share this story on social media: