Trump's Iran gamble won't topple regime, but could start 'war' with EU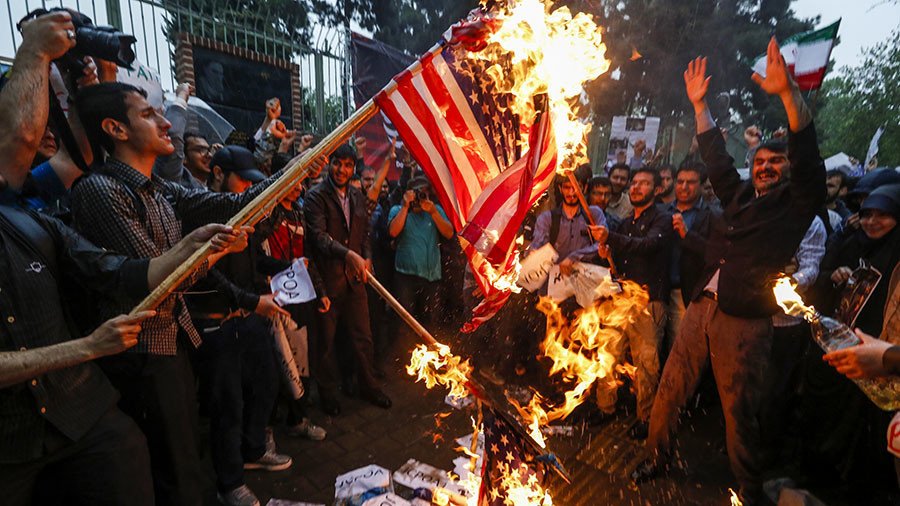 Trump's plans are not about starting a war with Iran but trying to bring about regime change by draining it financially. It's a plan which is doomed to fail, and could also create a costly trade war with the EU.
You have to go back quite some time in contemporary history to find a policy decision taken by a superpower so spectacularly wrong, that it compares to the decision by Donald Trump to pull out of the so-called Iran deal. One tends to think more recently of the decision by George W. Bush to not only invade Iraq with no real plan, but to also cancel all pay to the Iraqi army – a move which perhaps our grandchildren will still feel the impact of, in decades to come. Another one, perhaps, could be the decision in 1956 for Britain to plough ahead with the military campaign in Suez, an all-time low in British history which still produces red faces from bewildered politicos and historians today.
Has Trump's buffoonery in the Middle East with this latest decision also set a new milestone in off-the-scale inanity? What exactly are we witnessing?
The decision appears to have come out of desperation after 18 months in office and still not being able to assert himself in the Middle East, in particular in Iran. But the statement made on the Iran deal is so deeply flawed with lies – even James Mattis has stated that Iran "robustly" complied with the terms of the deal, including inspections – one has to wonder if his recourse is nothing more than an exercise in trivia. Is Trump fiddling while Rome burns? Have all plans failed and so all he is left with is this juvenile ruse which is really nothing more than a churlish statement?
Trump has manufactured a crisis in the last two days which wasn't there before. In 48 hours, we now have a new, heightened tension with Iran, a statement from Saudi Arabia that it will have to develop nuclear weapons, and an intensified military campaign between Iran and Israel in Syria.
If Trump wanted to create a crisis which dominates the headlines and puts him in the media spotlight 24/7, then he certainly achieved that. But his methodology and understanding of the region is comically flawed. Some pundits believe he wants war with Iran. In my view, he doesn't, but is focusing on trying to topple its regime – a strategy no doubt supported by John Bolton, a man who dodged the Vietnam draft but apparently loves war – as long as he's not the one on the battlefield.
But here's where the fatal flaw lies in his thinking.
Absolutely critical to this master plan to shake Iran and bring about an economic crisis, which in turn, he believes could facilitate regime change, is hitting its economy hard. Certainly, Trump can bully countries around the world which have trade agreements with Iran – but giants like Russia, China and the EU?
Trump believes that, with the vague threat of trade tariffs on steel and aluminum still hanging in the air, the EU is perhaps the weakest link and will comply with 'secondary sanctions' against Iran. But this is already apparently impossible for EU countries like France and their economies. Their stoic resolve is pretty clear, according to statements. EU countries can't entertain this idea as it would push Iran down a slippery slope of developing a nuclear weapon, which in turn could easily create war in the Middle East. Europe simply cannot cope with new torrents of refugees and terrorist attacks. Even politically speaking, it would set a fetid precedent for Europe to allow the US to bully them into playing such a servile role to Trump's half-baked plans on the foreign policy circuit. Indeed, the EU's foreign policy chief, Federica Mogherini, will not allow the Iran deal to collapse as it would make the EU look weak and ineffective – an iconic international treaty, brokered by the EU and seen very much a milestone into its own forays of foreign policy making.
Trump all alone
But with only US sanctions against Iran, Trump's plan is about to blow up in his face. Not only will Tehran ensure that demonstrations against the government will no longer be allowed, but for months Rouhani's government has been preparing itself for a new wave of US sanctions, even going as far as trading in oil with euros. Trump badly needs the EU to join him in the sanctions gang-bang and he is banking on France's Emmanuel Macron to do his bidding for him.
Yet aside from this erroneous judgement, EU leaders and the Brussels executive itself have a choice – to either serve their own interests, or those of Trump as well. The EU will never support Trump with the sanctions, but they can keep the deal in check. This would prevent Iran from going ahead with nuclear weapons, open the country up to EU investment, embolden Iran around the world as a regional superpower, and send a very clear message to Washington. Or alternatively, EU leaders like Macron could try and convince Mogherini that she should consider a cash-aid package for Iran for it to downsize its ballistic weapons program – such a move could appease Trump and the US could at least drop their sanctions.
Trojan Macron
This is unlikely to happen, although intensive talks are expected to take place in the coming days, and Macron has already talked to the Iranian government about what it would take to modify the ballistics program.
Trump, regularly refers to the US "giving" Iran $150 billion, which is wrong on two counts: firstly, the money – which was frozen by Jimmy Carter in 1979 – is mostly outside of the US and only amounts to around $32 billion anyway; and secondly it was Iran's money in the first place, frozen by the US. But part of this money was used to beef up Iran's ballistic missile program, which irks Trump. At the time, in August 2017, Iranian politicians were even keen to mock the US, after allocating over $500 million a year towards a new budget for ballistics. "The Americans should know that this was our first action," said Speaker Ali Larijani, after announcing the overwhelming majority vote for the package.
From an EU perspective, Trump's move is about to gentrify the EU's foreign policy agenda, taking it to a new level. For the first time ever, the EU has something really worthwhile fighting for, in that the Iran deal (which it deludes itself by thinking is a Brussels diplomatic triumph) must be preserved at all costs.
In many ways, if a petulant EU foreign affairs chief wanted to strike back at Trump, she and Iran could simply agree to stick to the deal. This would force a reaction from him, which would almost certainly be threats of EU tariffs – or at the very least EU firms operating in the US (which trade with Iran) to be closed. Either scenario is the making of a trade war and, at this point, even Trump's most loyal supporters in the Republican party are going to tell him that the Iran move should not jeopardise commerce with America's largest trading partner. We should not be focussing on a war with Iran and the US (and its chief ally, Israel); instead we should be looking at a trade war with the EU and how old Europe, even Euroskeptic countries like the UK, have no real choice but to support the Iran deal as the stakes are just too high. In the coming weeks, Federica Mogherini, a figure that Trump hasn't even bothered to meet one-to-one, will be made into a media star as she forces Trump's hand. His move, a gargantuan blunder of benighted stupidity, does not even serve his own interests, let alone America's – although it does at least follow a mantra of America's vacillating foreign policy dabbling in the region: The more Washington 'responds' to the 'threat' of Iran, incredibly, the more it strengthens it.
Today, while Trump battles with sex scandals and FBI probes into his Russian 'affairs,' in Israel Benjamin Netanyahu's black cloud of corruption charges has been shifted by the Iran plan as his popularity surges – allowing for a new campaign to start between Iran and Israel in Syria. But few American journalists note how it is possible that Iran is even able to send forces from Tehran right across the peninsula to Syria and even Lebanon, through a land corridor which America's military intervention blunders cleared for them. Trump's move will only bolster Iran, both militarily and economically, while making the region even more unstable, therefore creating an Atlantic crisis, the like of which has never been seen before.
Think your friends would be interested? Share this story!
The statements, views and opinions expressed in this column are solely those of the author and do not necessarily represent those of RT.
You can share this story on social media: