EU, Canada vow retaliation over US steel & aluminum tariffs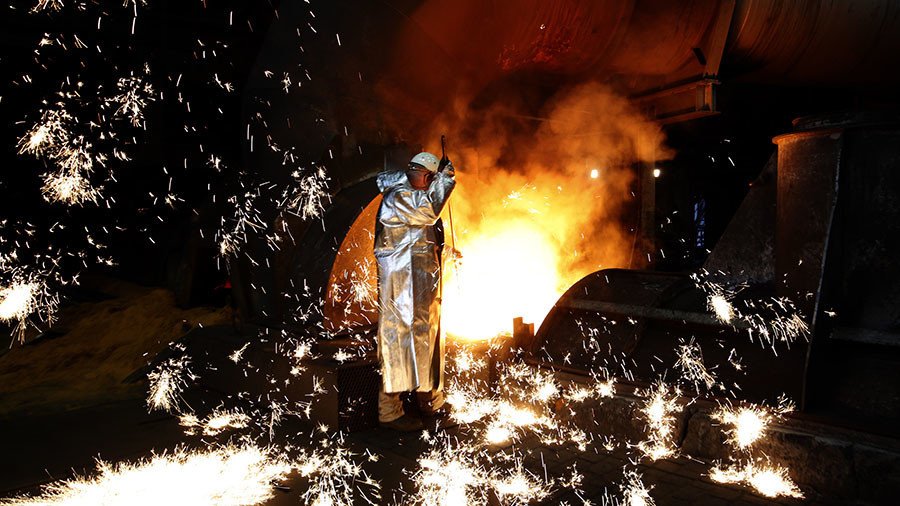 The steep tariffs on America's imports of steel and aluminum announced by the US President Donald Trump will be met with swift countermeasures, pledge European Union and Canadian officials.
Canadian Trade Minister Francois-Phillippe Champagne has promised to defend his country's workers, calling the tariffs "unacceptable."
According to Canada's Minister of Foreign Affairs Chrystia Freeland, trade restrictions will hurt workers and manufacturers on both sides of the border. It is inappropriate for the US to view any trade with Canada as a national security threat, she said.
The Canadian economy is reliant on trade with the US with more than 75 percent of exports going south of the border. Last month, Canada filed a 32-page complaint to the WTO, accusing Washington of misusing tariffs. In addition to a tariff on Canadian lumber, Ottawa's complaint lists 200 more instances of alleged US trade misconduct affecting other WTO members.
On Thursday, Trump said the US will set tariffs of 25 percent for steel and 10 percent for aluminum. He added the new tariffs could come as early as next week and would not target specific countries or impose quotas.
Shortly after Trump's announcement, European Commission President Jean-Claude Juncker said the EU would take the fight straight back to Washington.
"The Commission will bring forward in the next few days a proposal for World Trade Organization-compatible countermeasures against the US to rebalance the situation," he said. "The EU has been a close security ally of the US for decades. We will not sit idly while our industry is hit with unfair measures that put thousands of European jobs at risk. I had the occasion to say that the EU would react adequately and that's what we will do."
The European Union is the world's biggest trade bloc and the second-biggest steel producer after China. Its direct retaliation plans may reportedly include counterstrikes against iconic US brands such as whiskey from Kentucky, orange juice from Florida and Harley-Davidson motorbikes.
European Commission Vice-President Jyrki Katainen said the trade war would not be "only a problem between Europe and the United States because it has an impact to steel production, the steel market elsewhere too."
"We can end up easily in a situation where we are in a trade war with the two fronts," said Katainen. "And only because of one decision made by the president of the United States."
For more stories on economy & finance visit RT's business section
You can share this story on social media: