Unruly neighbor: Canada complains to WTO, says US breached trade rules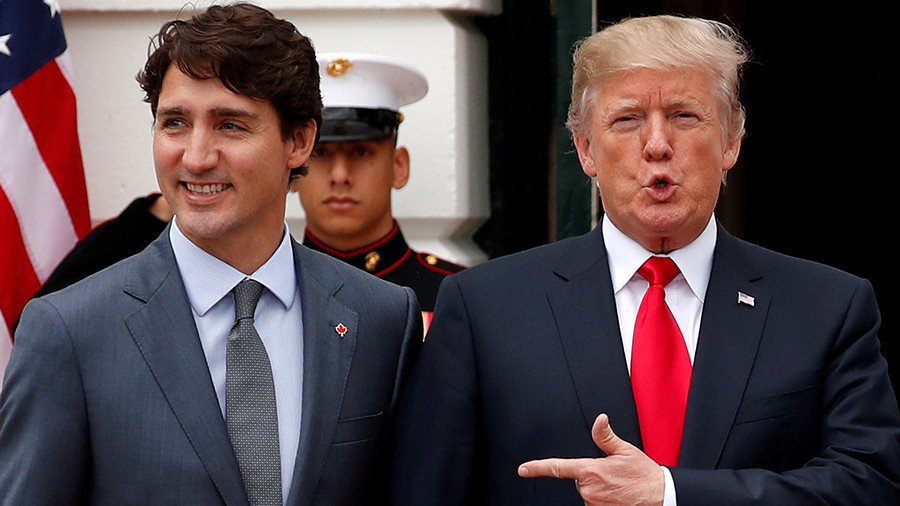 A wide-ranging trade complaint has been filed by Canada against the US, accusing it of breaking international trade rules. The US, which has threatened to scrap trade deals between the two, has called the move "ill-advised."
Canada's complaint comes as its efforts continue to renegotiate the North American Free Trade Agreement (NAFTA).
The 32-page complaint challenges Washington's use of anti-dumping and anti-subsidy duties, according to the World Trade Organization (WTO). Ottawa has cited around 200 examples of alleged US wrongdoing, almost all of them concerning other trading partners too, such as China, India, Brazil and the European Union.
Canadian Foreign Minister Chrystia Freeland said the legal action was in response to "unfair and unwarranted" US duties against Canada's softwood lumber producers, and is part of a "broader litigation" to defend its forestry jobs.
"We continue to engage our American counterparts to encourage them to come to a durable negotiated agreement on softwood lumber," Freeland told Reuters.
The US called the claims "unfounded," with its Trade Representative Robert Lighthizer saying: "Canada's new request for consultations at the WTO is a broad and ill-advised attack on the US trade remedies system."
"Even if Canada succeeded on these groundless claims, other countries would primarily benefit, not Canada," he added, suggesting also that "Canada's complaint is bad for Canada."
Under WTO rules, the United States has 60 days to try to settle the complaint. Otherwise Canada, which sends 75 percent of its goods exports to the US, could ask the trade organization to adjudicate.
Trade relations between the countries have experienced some stumbling points as the sides are deadlocked in unsuccessful negotiations over NAFTA, the trade pact signed by the US, Canada, and Mexico in 1994 and based on the fundamental principle of tariff-elimination across North America.
NAFTA has been heavily criticized by Trump, who called it the "worst deal in US history" and warned that he might scrap it.
According to Trump, the deal, which provides for tax-free trade between the three countries, is taking vehicle plants and jobs away from the US.
Washington aims to decrease its trade deficit and to boost market access for US manufacturing, agriculture, and services in Canada and Mexico.
For more stories on economy & finance visit RT's business section
You can share this story on social media: