Canada threatens to play hardball with Trump over lumber tariffs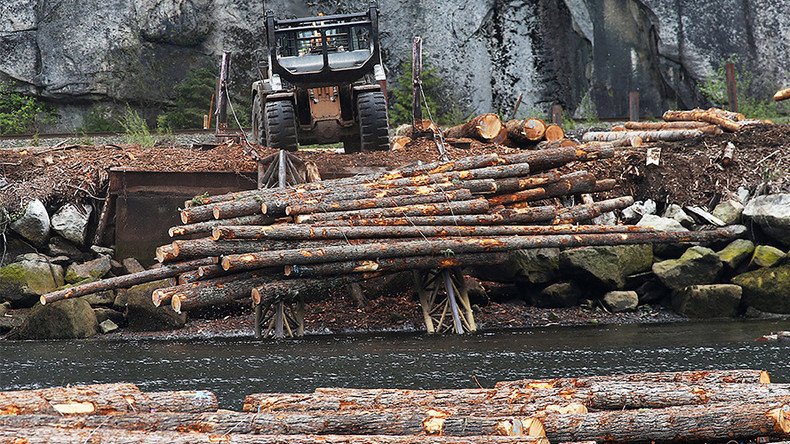 Trade relations will not be easy-going after the US imposed 20 percent tariffs on Canadian lumber, warned Canadian Foreign Minister Chrystia Freeland.
"When it comes to defending Canada's economic interests, we're going to play hard," Freeland told CNN on Tuesday.
"We're nice guys: Politeness is something we believe is a national virtue, but it's not an accident that hockey is our national sport," she said.
US President Donald Trump told reporters that given America has the trade deficit [over $500 billion], he is not afraid of any trade war.
On Monday, the US Department of Commerce announced the Trump administration would impose a 20 percent tariff on Canadian softwood lumber, including specific tariffs for five Canadian lumber firms that range from three to 24 percent.
Secretary of Commerce Wilbur Ross told reporters Canada wasn't being a "good neighbor," accusing the country of "dumping lumber" on the US market.
The US lumber industry has argued for decades that because most Canadian timber is harvested on Crown lands, and the way provincial governments manage and set prices results in cheaper lumber.
An investigation by the Commerce Department has concluded that Canadian authorities subsidize timber companies to help them sell to the US at lower prices.
In the past, US Presidents George W. Bush and Barack Obama also imposed temporary tariffs on Canadian lumber.
The decision by the Trump administration came after failed talks to cut Canadian tariffs on US dairy products, which are 270 percent. This helps Canada to increase domestic prices and keep American and other countries' produce out of the country.
However, when Canada' s supply management was introduced in the late 1960's, it had 140,000 dairy farms. Now it has fewer than 12,000, but Canadian authorities are still voting to support the protectionist measure.
"Canada has made business for our dairy farmers in Wisconsin and other border states very difficult. We will not stand for this. Watch!" Trump tweeted Tuesday morning before the announcement.
The United States, Canada, and Mexico are expected to start renegotiating the North American Free Trade Agreement (NAFTA), which was signed in 1992 and defines trade between the countries.
You can share this story on social media: