EU trade pact with Canada comes into force amid GMO concerns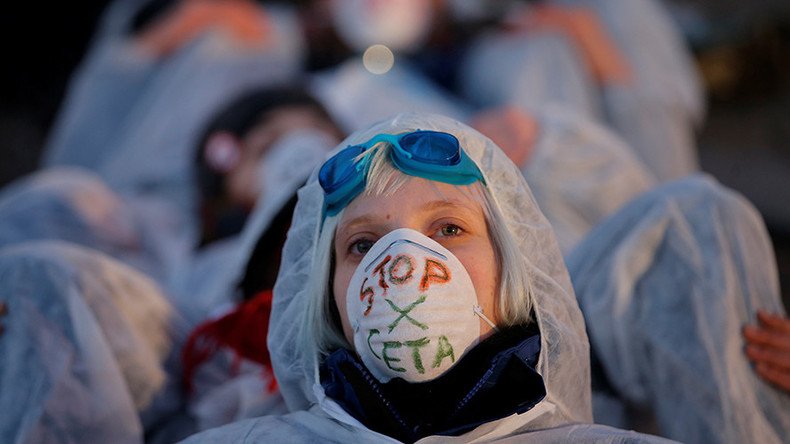 The European Union has hailed the enactment of a major trade agreement with Canada. Greenpeace has warned the deal can hurt European food standards.
"This agreement encapsulates what we want our trade policy to be - an instrument for growth that benefits European companies and citizens, but also a tool to project our values, harness globalization and shape global trade rules. This trade deal has been subject to an in-depth parliamentary scrutiny which reflects the increased interest of citizens in trade policy," European Commission President Jean-Claude Juncker said on Wednesday.
The Comprehensive Economic and Trade Agreement (CETA) provisionally comes into force Thursday. Some aspects like investment protection will not be active until all EU member parliaments endorse them.
The deal boasts of saving EU businesses €590 million a year the amount they pay in tariffs on goods exported to Canada. CETA removes duties on 98 percent of products the EU bloc trades with Canada.
According to Greenpeace, the CETA trade deal puts EU food and agriculture standards at risk.
"Canada has weaker food safety standards than the EU. They have an agricultural economy more heavily dependent on chemical inputs and GMOs," the organization said in a statement.
Activists "warn the trade deal gives North American corporations tools to weaken European standards regarding growth hormones, chemical washes, GMOs, animal cloning, and Country of Origin labeling. What they have not achieved so far, via the WTO, they can now start undermining via CETA."
Nevena Alexandrova, Agricultural Officer at the UN FAO Regional Office for Europe and Central Asia, told RT the agreement doesn't bring in many new GMO crops to Europe as they have already been allowed.
"At the moment, more than 60 approvals for GMOs in food and feedstuffs are already being approved for import prior the bilateral agreements, and only one GM variety of maize is approved for cultivation. The CETA and TTIP are regulating the trade between US and Canada from one side and EU from another. The cultivation of crops in the territory of the EU, including GM, is not and cannot be a subject of bilateral trade agreements," she said.
CETA becomes official at the time when the EU and the United States are re-negotiating the Transatlantic Trade and Investment Partnership (TTIP) trade agreement. US President Donald Trump has canceled the TPP agreement with Asian countries, while TTIP talks have stalled, too.
Last week during his speech before the European Parliament, Juncker didn't mention the United States in the list of countries Brussels wants to conclude trade agreements with in the coming years.
The countries and areas preferred by Europe are Canada, Mexico, South America, Australia and New Zealand, he said.
You can share this story on social media: