Bitcoin dips 12% as South Korea announces taxation of cryptocurrency exchanges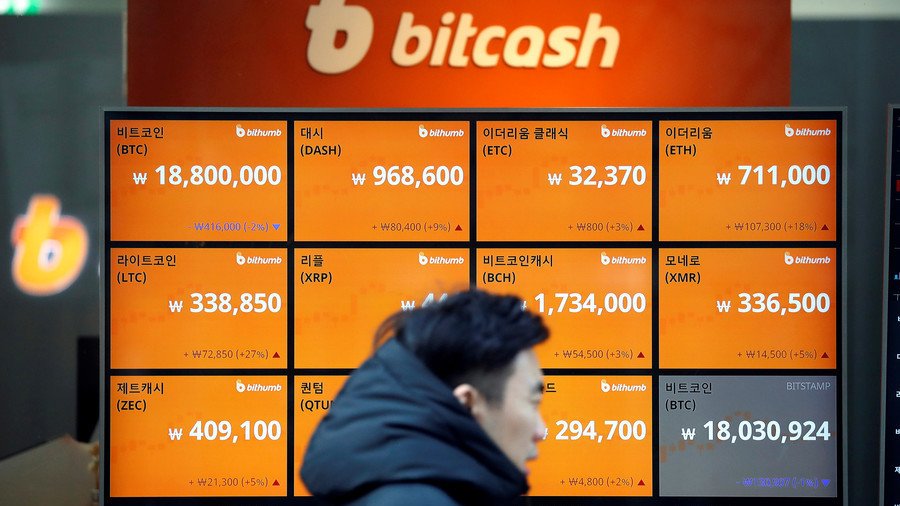 The cryptocurrency market has extended losses on Tuesday following the news that South Korea is planning to introduce taxation on digital money trading.
A total of 96 out of the top 100 cryptocurrencies are down 10 to 20 percent, with market leader bitcoin over 12 percent in the red, according to data on Coinmarketcap.
The South Korean government announced on Monday it will collect up to 24.2 percent of corporate and local income taxes from the country's cryptocurrency exchanges this year, local news agency Yonhap reported. The country has one of the world's biggest private bitcoin exchanges, with more than 2 million people holding bitcoin.
Bitcoin was trading near the $10,400 mark on Tuesday following the news, as cryptocurrency investors are worried that regulation will become tighter. Ethereum was down 11 percent at $951, ripple plunged 11 percent to $1.25.
Last month, South Korea announced it was banning cryptocurrency exchanges from issuing new trading accounts. If the ruling is violated, the exchange can be shut down, authorities said. The South Korean commission added that all cryptocurrency trading should be done under individuals' real names.
Regulators will have trouble banning cryptocurrencies, as the internet allows people to register new domains anywhere in the world.
"The widespread announcement of measures to tackle mining and trading of cryptocurrencies in some countries results in the short-term emotional consequences. They, first of all, negatively influence the confidence in this young market, but they can hardly cause a deep protracted fall of the latter," Vladimir Rozhankovsky, investment analyst at Global FX, told RT.
For more stories on economy & finance visit RT's business section
You can share this story on social media: