Saudi Arabia eases Aramco's tax burden ahead of historic IPO
Published time: 28 Mar, 2017 10:58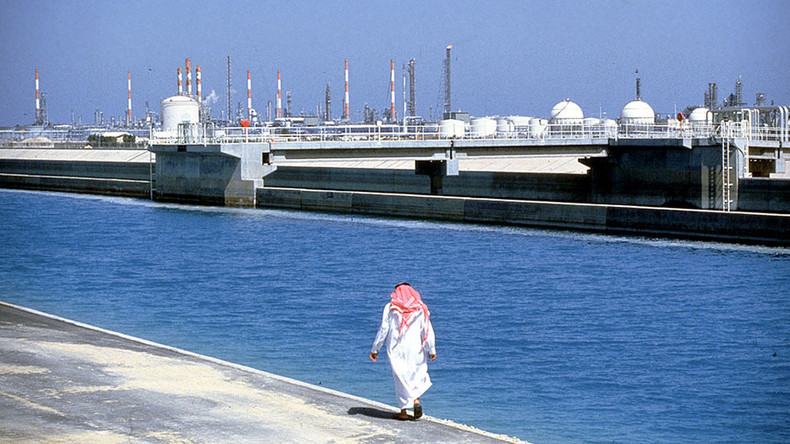 The corporate tax rate for state-owned energy company Saudi Aramco has been slashed from 85 percent to 50 percent as Riyadh looks for the highest valuation it can get ahead of the oil giant's initial public offering (IPO) scheduled for next year.
The tax change is retroactive to January 1, according to a royal decree released on Monday.
The move may make Aramco more attractive to private investors, as it reduces the firm's tax burden by tens of billions of dollars.
"The royal order is a milestone in setting the stage for the world's biggest IPO. I am sure there will be more such moves to follow in the coming weeks and months. It shows the Saudi government is serious about the IPO of Saudi Aramco, and this is a very strong message to those who doubted the government will follow through on taking Aramco public," an oil industry executive said, as quoted by Reuters.
The Saudi government plans to sell up to five percent of the state firm, aiming to list its shares in Riyadh and at least one foreign exchange.
The IPO is part of an ambitious plan to reduce Saudi Arabia's economic reliance on oil by raising cash for the kingdom to invest in new industries.
READ MORE: Saudi Aramco may be worth a fifth of estimated value
Saudi officials expect the world's most valuable firm to be worth more than $2 trillion when it goes public. Some experts have been more conservative, valuing Aramco below $1 trillion.
"This move carries strategic benefits for Saudi Arabia, its citizens and future generations," Finance Minister Mohammed al-Jadaan said in a statement about the tax cut.
Over 60 percent of the kingdom's total income comes from crude exports. The Saudi government is currently struggling to patch a $79 billion budget deficit that was caused by lower oil prices. That means that the tax cut could have an impact on the country's finances.
READ MORE: China & Saudi Arabia sign agreements worth $65bn
However, the measure might not have a significant impact since tax revenue is expected to be replaced by dividend payments from Aramco, according to some experts surveyed by Reuters. The corporation has not revealed plans for its post-IPO dividend policy.
"Any tax revenue reductions applicable to hydrocarbon producers operating in the kingdom are replaced by stable dividend payments by government-owned companies, and other sources of revenue including profits resulting from investments," said Jadaan.
According to a later statement seen by the agency, the 2017 state budget was prepared with the tax change in mind so government revenue and public services would not be affected.
The planned IPO will help Saudi Aramco boost its business in line with market principles and establish effective partnerships with private-sector corporations across the globe, industry executives say.
READ MORE: Brexit could hurt Saudi Arabia's oil production
The tax cut will bring the company in line with international benchmarks, helping to extend its business, according to Aramco CEO Amin Nasser.