Belgium's Wallonia rejects 'undemocratic' EU ultimatum on CETA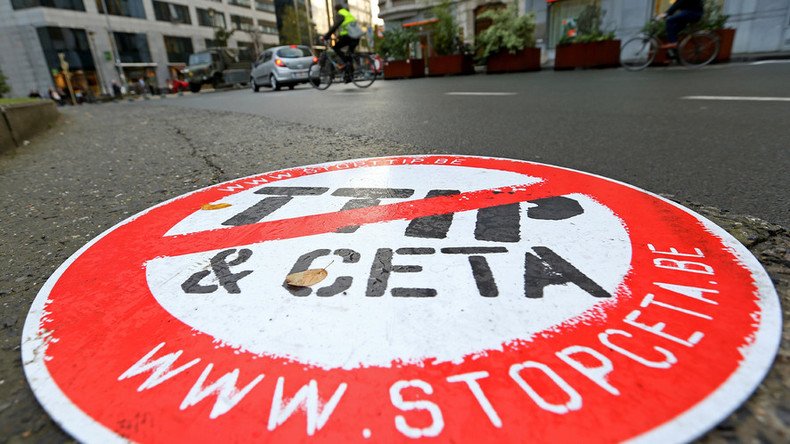 Wallonia is not going to be pressured into agreeing the EU-Canada trade deal according to the leader of the French-speaking Belgian region Paul Magnette. The EU has given Belgium an ultimatum to end its objection to the agreement by Monday.
"Every time you try to put an ultimatum it makes a calm debate and a democratic debate impossible," Magnette said at a meeting in Brussels.
"We don't need an ultimatum," he told reporters. "We will not decide anything under an ultimatum or under pressure."
On Sunday the leader of the Wallonia region told the Belga news agency the ultimatum from the EU "is not compatible with the exercise of democratic rights."
"We are not against a treaty with Canada," Magnette said. "But we won't have one that jeopardizes social and environmental standards and the protection of public services and we want absolutely no private arbitration mechanisms."
Magnette was referring to an introduction of a secret corporate court system, empowering big business to sue states for policies that threaten their profits.
Dommage que les pressions de l'UE sur ceux qui bloquent la lutte contre la fraude fiscale ne soient pas aussi intenses

— Paul Magnette (@PaulMagnette) October 23, 2016
Belgium has been given until Monday to resolve an internal disagreement holding back the CETA trade deal with Canada. The pact needs the backing of all 28 EU countries to be passed. Belgium cannot sign without Walloon support.
The EU has warned that unless Belgium makes its position clear, it will cancel this week's EU-Canada summit. Belgian Prime Minister Charles Michel is expected to make a speech on Monday, an EU source told Reuters.
Wallonia is a region of 3.6 million people, and has become an obstacle in the controversial free trade agreement between the European Union and Canada. The region has refused to approve the deal, fearing an influx of Canadian pork and beef products would undermine local farmers.
CETA promises to eliminate tariffs on 98 percent of goods traded between the EU and Canada. The agreement encompasses regulatory cooperation, shipping, sustainable development and access to government tenders.
Supporters of CETA say the deal will be worth $13 billion a year to the EU and $9 billion to Canada.
Opponents say the trade deal will violate workers' rights and benefit the interests of the wealthy elite and corporations.
The EU has warned a failure to complete the agreement after seven years of negotiations will jeopardize the bloc's trade policy.
You can share this story on social media: