Belgium given Monday deadline as EU-Canada CETA trade deal hangs in balance
Published time: 23 Oct, 2016 16:40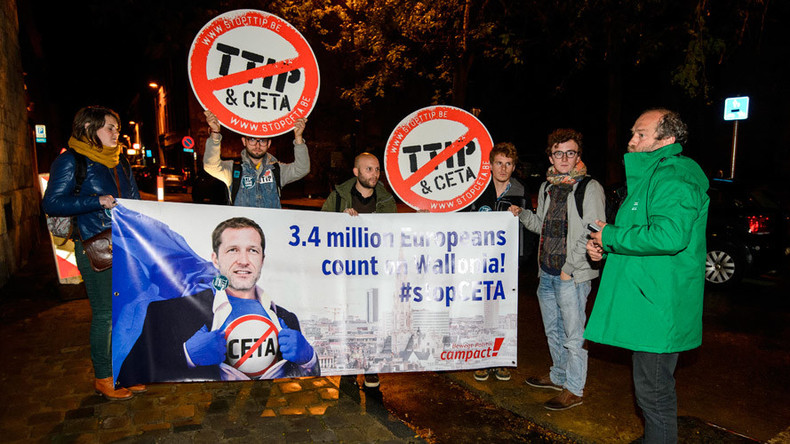 Belgium has been given until Monday to resolve an internal disagreement holding back the CETA trade deal with Canada, EU sources told Reuters. The pact is scheduled to be signed this week after years' long negotiations.
On Thursday, the governments all 28 European Union member states are supposed to sign the Comprehensive Economic and Trade Agreement (CETA) with Canada, a free trade pact years in the making, but the deal is at risk of being scuppered by internal opposition from Belgium, which must get the approval of all five of its federal subdivisions.
The French-speaking region of Wallonia has refused to grant permission, fearing that an influx of Canadian pork and beef products would undermine its local farmers.
Canadian PM Justin Trudeau has given the EU until Monday to renegotiate terms with the Walloons, leaving EU officials scrambling to put pressure on Belgium. The president of the European Union, Donald Tusk, is to meet Belgium's PM Charles Michel by Monday evening, before updating Canada on the latest developments.
"If Michel says he is not in a position to confirm that Belgium will be able to sign on Thursday, then we won't have the summit," a source told Reuters.
The Walloon government has said that is not enough time, however.
"They took years to negotiate #CETA and we are denied a few weeks," Socialist leader and former prime minister Elio Di Rupo tweeted on Sunday.
"Will we reach a solution? All depends on the contents. If it doesn't change enough, we will maintain our opposition," he said.
"Est-ce qu'on va aboutir? Tout dépendra du contenu. Si ça ne change pas suffisamment, nous maintiendrons notre position" #CETA#dimancheRTL

— Elio Di Rupo (@eliodirupo) October 23, 2016
Meanwhile, the Canadian government is waiting on the Europeans.
"We have finished negotiating a very good agreement. Now the ball is in Europe's court," said Canadian trade minister Chrystia Freeland, who walked out of a meeting with Wallonia's prime minister on Friday, according to Reuters.
READ MORE: Thousands protest TTIP, CETA deals in France, Poland, & Spain as EU vote looms closer
"It seems obvious that the EU is now not capable of having an international agreement, even with a country that shares European values such as Canada, even with a country that is so kind and patient," she told reporters.
"Canada is disappointed. I am personally very disappointed. I have worked very, very hard. I am truly very, very sad," she said.
Supporters of CETA say the deal will be worth €12 billion a year ($13 billion USD) to the EU and C$12 billion ($9 billion) to Canada. If the EU fails to sign the agreement, it will be another blow to the 28-nation bloc, which is already divided over Brexit and the ongoing migrant crisis.