Belgium's Wallonia rejects EU-Canada free trade agreement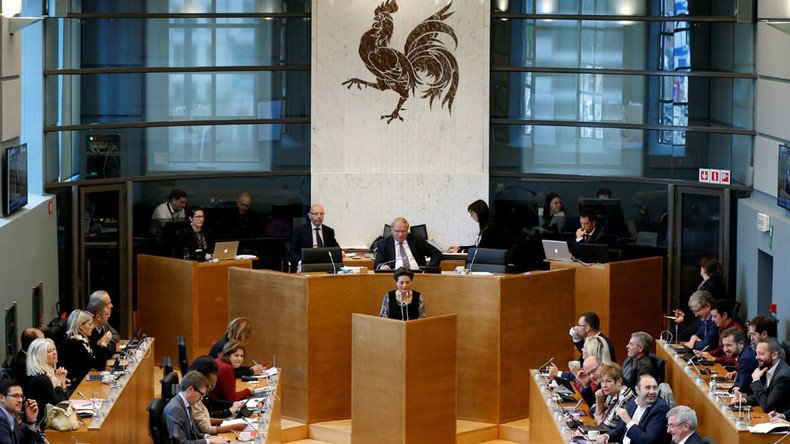 Lawmakers from Belgium's French-speaking region of Wallonia voted against the EU-Canada trade deal (CETA) on Friday, threatening to derail the long delayed agreement.
Wallonia's leader Paul Magnette said he would not allow the government to sign the Comprehensive Economic and Trade Agreement (CETA).
"I will not give powers to the federal government, and Belgium will not sign CETA on October 18," Magnette told an emergency session of the regional parliament.
Belgium's federal government favors the pact but by law Brussels needs the backing of all seven regional, linguistic and federal entities.
Canadian Prime Minister Justin Trudeau said this week he was running out of patience after two years of delays and warned that killing the deal would send "a very clear message... that Europe is not productive."
On Thursday, the German Constitutional Court backed the trade pact despite strong opposition. About 200,000 signatures have been already collected from Germans against the pact. Anti-CETA campaigners claim it will violate workers' rights and serve the interests of the wealthy elite. They also say the pact will be used to push through another controversial EU-US trade deal called TTIP.
Germany will vote on CETA next week. If the trade deal gets unanimous support from all of the bloc's 28 members it can be signed on October 27.
READ MORE: Thousands march against TTIP, CETA trade deals in Brussels (PHOTOS, VIDEOS)
The deal with Canada is intended to eliminate tariffs on 98 percent of goods immediately after ratification and also encompasses regulatory cooperation, shipping, sustainable development and access to government tenders.
The agreement will introduce a secret corporate court system, empowering big business to sue states for policies that threaten their profits. It will also pave the way for the privatization of public services and the deregulation of social, health and environmental protections.
You can share this story on social media: