Thousands march against TTIP, CETA trade deals in Brussels (PHOTOS, VIDEOS)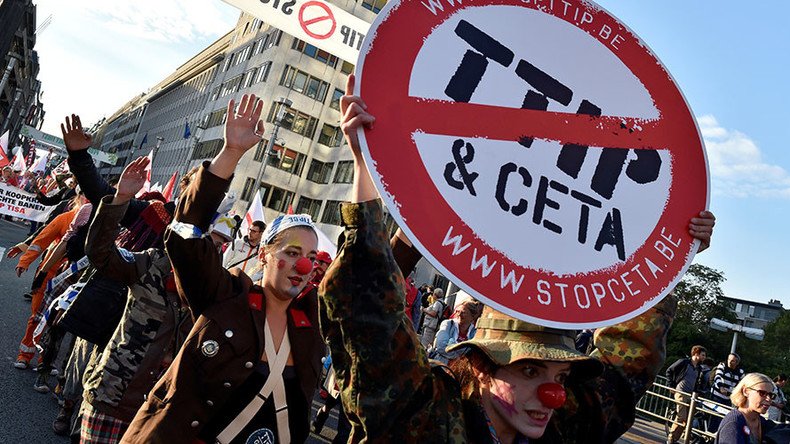 Thousands of people in Brussels have taken to streets to protest against the planned free trade deals between the US, the EU and Canada amid fears that they may affect labor conditions and environment as well as violate consumer rights.
Some 10,000 to 15,000 people from trade unions, environmental and consumer groups have taken part in protests against the US-EU Transatlantic Trade and Investment Partnership (TTIP) and Canada-EU Comprehensive Economic and Trade Agreement (CETA) on Tuesday, the organizers said, according to AP. Police put the number of protesters at 6,000.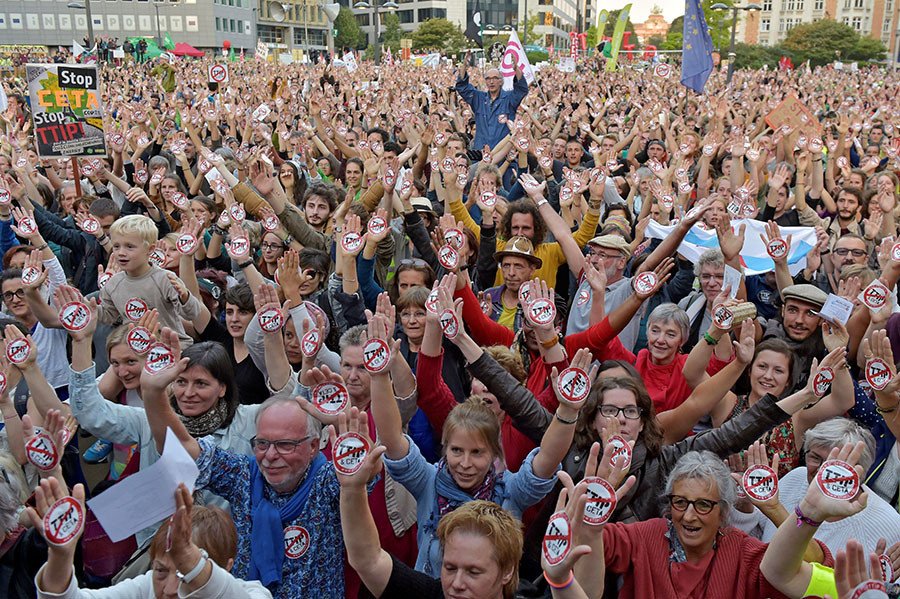 Greenpeace activists in chemical protection suits were seen spraying white paint graffiti with anti-TTIP and anti-CETA slogans on the streets. After that, several vehicles took a large crowd carrying placards to the European Commission headquarters in Brussels.
"We are against these trade deals because they are a threat for the environment, for health, for labor regulations and they give so much power to multinational corporations," said Mark Brady, spokesman for Greenpeace Europe.
Critics of the deals have compared them to a Trojan horse, which explains two inflatable horses placed outside the Commission headquarters, representing TTIP and CETA. It is feared the deals will undermine food, environment and labor standards if enforced.
The protest is held in hope that the talks between the US and the EU scheduled for Friday in Bratislava will falter due to lack of support from Europe.
Protesters also hope that the CETA deal won't have enough parliamentary approvals among the EU states, and the deal that is already finalized, but still needs approval, will come off the table.
Three days ago seven German cities, including Berlin, Cologne, Hamburg, Frankfurt, Leipzig, Munich, and Stuttgart saw similar demonstrations. At least 100,000 protesters rallied in Germany, speaking out against the deals, Deutsche Welle reported, citing the German police.
You can share this story on social media: