Russia strikes over $15bn worth of deals despite sanctions at SPIEF 2016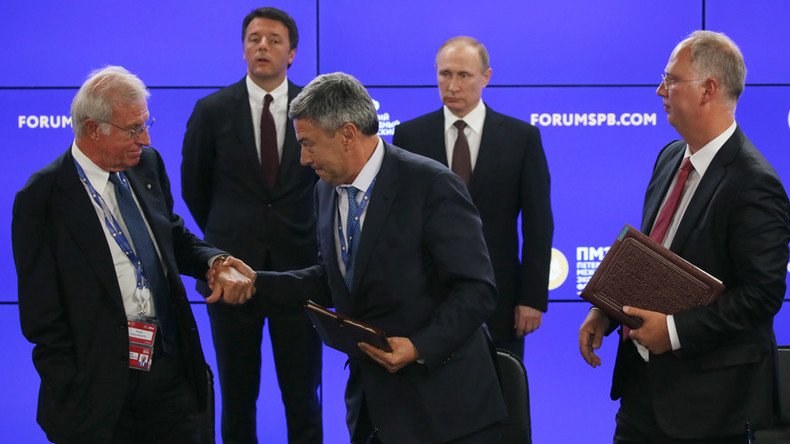 From multibillion-dollar deals and new projects, including the use of Hyperloop tech in Russia's Far East, to hints that economic sanctions could be lifted – RT looks at the main highlights from the 20th St. Petersburg International Economic Forum (SPIEF).
SPIEF is an annual international conference and a platform for discussing economic and business trends. This year it took place from June 16 to 18 and attracted more than 12,000 participants from all over the world, including top foreign officials, academics, and business leaders.
SPIEF by the numbers
Over 12,000 people from 130 countries took part in the forum, Anton Kobyakov, executive secretary of the forum's Organizing Committee, said.
All in all, 30 ministers from 21 countries took part in SPIEF, he said, adding that representatives of least 1,300 companies had attended, 880 of which were CEOs.
At least 332 official agreements worth more than $15.4 billion have been signed at the forum so far, not including unofficial deals, Kobyakov added.
Putin hints Russia could lift anti-EU sanctions unilaterally
Sanctions on Russia and the Russian embargo on EU products have been hot topics of discussion at SPIEF.
Speaking at the forum on Friday, Russian President Vladimir Putin said that Moscow might unilaterally lift its sanctions, which were imposed as a counter-measure to anti-Russia restrictions.
"If at some stage we see that almost everything [to resolve the Ukrainian crisis] has been fulfilled, then we will be ready to make the first step, including [sorting out] various restrictions in the sphere of trade and economics," he said.
However, he cautioned, "We must be sure that these unilateral measures taken by Russia will be followed by reciprocal steps, which won't be – as one famous classic has said – a one step forward, two steps back," a reference to a well-known phrase coined by Vladimir Lenin.
Putin spoke with Italian Prime Minister Matteo Renzi, who said that he will urge his European colleagues in the 28-member bloc to thoroughly discuss their next move regarding the EU's anti-Russia sanctions.
READ MORE: 'You can now speak with frankness': Putin welcomes former French leader Sarkozy in St. Petersburg
In addition, speaking ahead of the forum, Nicolas Sarkozy, the former president of France, called for anti-Russian sanctions to be lifted, adding that Europe has enough problems without them.
Over 1 billion euros worth of deals signed between Italian and Russian companies
The SPIEF has been productive for Italian and Russian companies. According to Renzi, Italian firms had signed deals worth more than 1 billion euros with Russian companies as of Friday.
"These are deals which are all legitimate within the context of the sanctions regime because we respect all the rules," Renzi said, adding that the accords "potentially open the way to deals worth between 4 and 5 billion euros."
Among the deals signed at the forum was the one struck between Italian shipbuilding company Fincantieri and Russian energy giant Rosneft.
Hyperloop tech for super-fast transport in Far East
One of the most innovative ideas discussed at the forum was an idea from Russia's Ministry of Transport to use Hyperloop technology along a 70-kilometer (43.4-mile) strip of Russia's first super high-speed transport system. Russia's Minister of Transport, Maksim Sokolov, said he was also seeking to get Chinese investors involved in funding the project.
According to Sokolov, building the super-fast Hyperloop will be cheaper than laying a regular railway network. The project's cost has been estimated at between 30 to 40 billion rubles ($455-607 million).
Foreign investors show growing interest in Russian assets
One of the largest Russian state banks, Gazprombank, has noted an increase in interest from foreign investors in Russian assets. According to the bank's First Vice President, Oleg Vaksman, investors want to buy Russian stocks and bonds, but not enough are available.
READ MORE: Russian assets undervalued, demand outstrips availability – Gazprombank
"There is an interesting trend. Our clients that have money abroad and foreign investors are now more likely to buy Russian stocks and bonds through the foreign branches of Russian banks. They used to do it through a Swiss or English bank, and this is a positive new trend," Vaksman told RT.
Putin calls for integration of Eurasian business
Russian and Asian countries should create a vast economic space, said President Vladimir Putin, speaking at the 20th St. Petersburg International Economic Forum (SPIEF).
"With our partners, we believe the Eurasian Economic Union may be one of the centers of broader integration [with Asia]," said Putin on Friday. The EEU is a trade bloc established in 2015 based on the Customs Union of Russia, Kazakhstan and Belarus. It currently has five members: Russia, Armenia, Belarus, Kazakhstan, Kyrgyzstan, while Tajikistan is a prospective member.
READ MORE: Putin calls for integration of Eurasian business
"We are suggesting the creation of a larger Eurasian partnership involving the Eurasian Economic Union and countries with which we have already had a close relationship: China, India, Pakistan, Iran," Putin added.
Indian oil firm buys 23.9 % stake in Rosneft oil field for $2.1 billion
India's Oil and Natural Gas Corporation (ONGC) has signed an agreement to buy a 23.9 percent stake in Vankor oil field from Russia's Rosneft company for about $2.1 billion.
"With the closure of the Vankor deal, IOC's equity oil portfolio will go up by 1.6 million tons per annum," the Indian company said.
The Vankor field in East Siberia is Russia's second largest by production, with estimated reserves of 520 million metric tons of oil.
Russia to maintain its presence in the Arctic, 'will abide by the law'
A separate discussion at the forum was devoted to Russia's icy stronghold – the Arctic. Moscow plans to maintain its presence in the Arctic, while abiding by international law, said Russia's envoy to the Arctic Council, Vladimir Barbin.
"Russia plans to stick to [international] agreements and act in the Arctic solely within international laws," Barbin stressed.
He added that international laws ruled out any "potential for conflict over access to mineral and biological resources" in the Arctic. "The international law is crystal clear on the rights of Arctic coastal countries and others."

In 2015, Russian President Vladimir Putin adopted a new maritime doctrine that underlined the growing role of the Northern sea route.
Putin speaks on Ukraine, US elections, NATO
The state of the economy wasn't the only issue discussed at SPIEF. On the second day of the forum, President Putin spoke for hours on the hottest topics on the global agenda, including Russia's relations with the EU and Washington.
READ MORE: 'We hold no grudge' & Putin's other Friday SPIEF highlights on key intl issues
When asked about his opinion of the candidates for US president, Putin explained his attitude towards "probably the only superpower," as the president called it. "America is a great state... We accept it, and we want to and are ready to work with the United States," he said, adding that no matter who is elected as America's next leader, Russia will work with him or her. Yet, the Russian President hinted that Donald Trump's foreign agenda might be more preferable to Moscow, "Mr. Trump has stated that he is ready to restore full format Russia-US relations... We all welcome it."
The situation in Ukraine is a good example of how things should not be done in the international arena, according to Russia's president.
"After the Arab Spring, [the US] sneaked up to our borders. Why did they need to support a coup in Ukraine? Chances are, the opposition that is currently in power could have reached it through democratic elections, and we would have been working with them, just the way we worked with those who were in power before president Yanukovich." "But no," Putin went on, "they had to lead it to a bloody coup with victims, to cause civil war."
According to the Russian president, NATO "needs a foreign enemy, otherwise what would be the reason for the existence of such an organization." The whole conflict was forced on Ukraine "to substantiate the very existence of the North Atlantic alliance," Putin concluded.
You can share this story on social media: