'We hold no grudge' & Putin's other Friday SPIEF highlights on key intl issues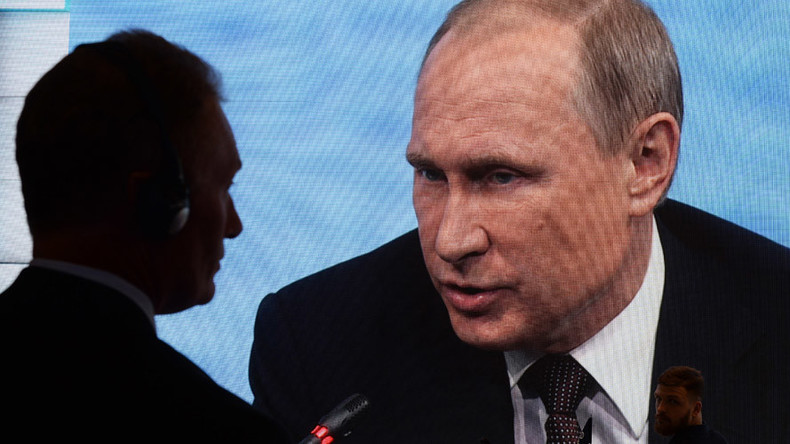 It definitely wasn't casual Friday for President Putin, who spoke for hours at the St. Petersburg International Economic Forum (SPIEF) on the hottest topics on the global agenda, including Russia's relations with the EU and Washington.
READ MORE: Putin on ban of Russian athletes from Rio Olympics: 'I think we can find a solution'
When asked about his opinion of the candidates for US president, Putin explained his attitude towards "probably the only superpower," as the president called it. "America is a great state... We accept it, and we want to and are ready to work with the United States," he said, adding that no matter who is elected as America's next leader, Russia will work with him or her. Yet, the Russian President hinted that Donald Trump's foreign agenda might be more preferable to Moscow, "Mr. Trump has stated that he is ready to restore full format Russia-US relations... We all welcome it."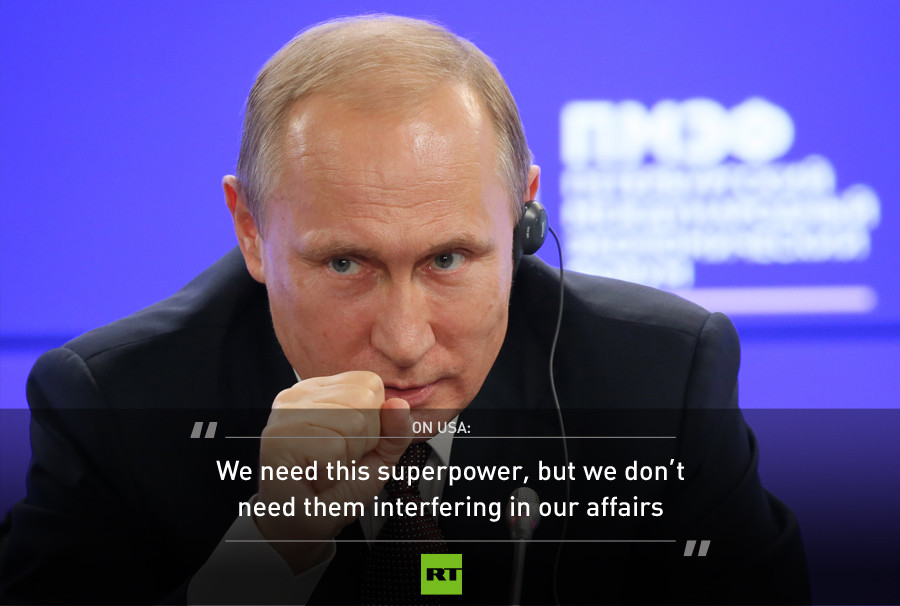 While saying that such a powerful state could be of benefit to the world, including Russia, Putin noted that the problem with the US is its tendency to interfere in the affairs of other countries.

"We need [the US]. But we don't need them constantly interfering in our affairs, telling us how to live, and hindering Europe in building relations with us," he said.

The economic sanctions that Moscow introduced as a response to the West imposing restrictions on Russia after the coup in Kiev have not affected America in any way, but they have done harm to Europe.

"[Sanctions] have zero effect [on US], but Americans tell their partners to endure them," Putin said, adding that he doesn't understand why the EU has to suffer.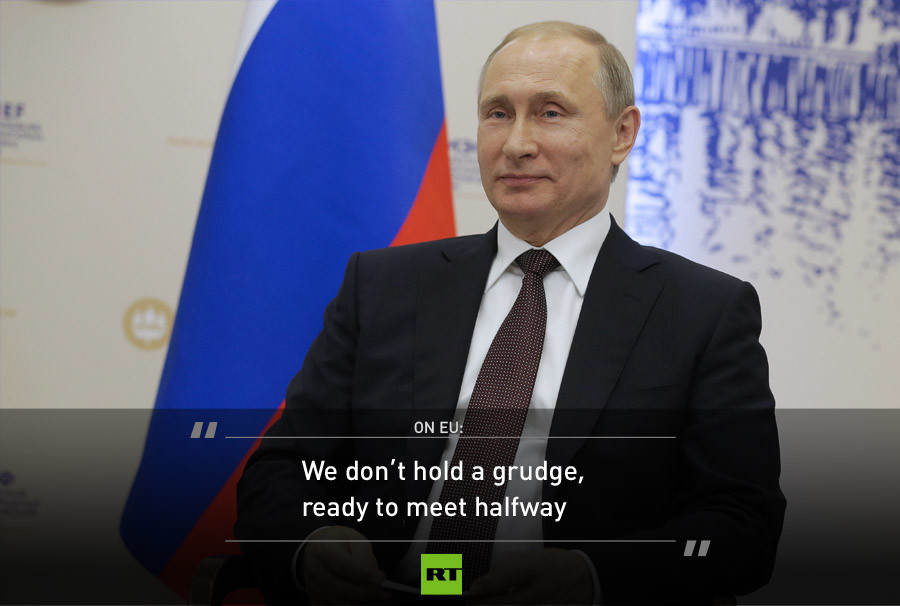 Despite all the difficulties, the EU remains Russia's "key partner" in trade and economy. "The EU is our closest neighbor, and we care about what happens to our neighbors,'" Putin said. Russia's president pointed out that representatives of some European business circles, including those of France and Germany, have expressed willingness to cooperate with Moscow, while suggesting that it's now the politicians' turn to "show wisdom, foresight and flexibility."
"We do not hold a grudge and are ready to meet our European partners halfway," Putin told the forum, while pointing out that it wasn't Russia that had initiated the current "breakdown" in relations and the problems caused by the sanctions. "All our actions have been and remain solely retaliatory."
"Our recent meetings with representatives of German and French business circles have proven that European business is willing and ready to cooperate with our country. Politicians need to meet the businesspeople halfway, and show wisdom, foresight, and flexibility. We need to regain trust in Russian-European relations and to restore the level of interaction," he said.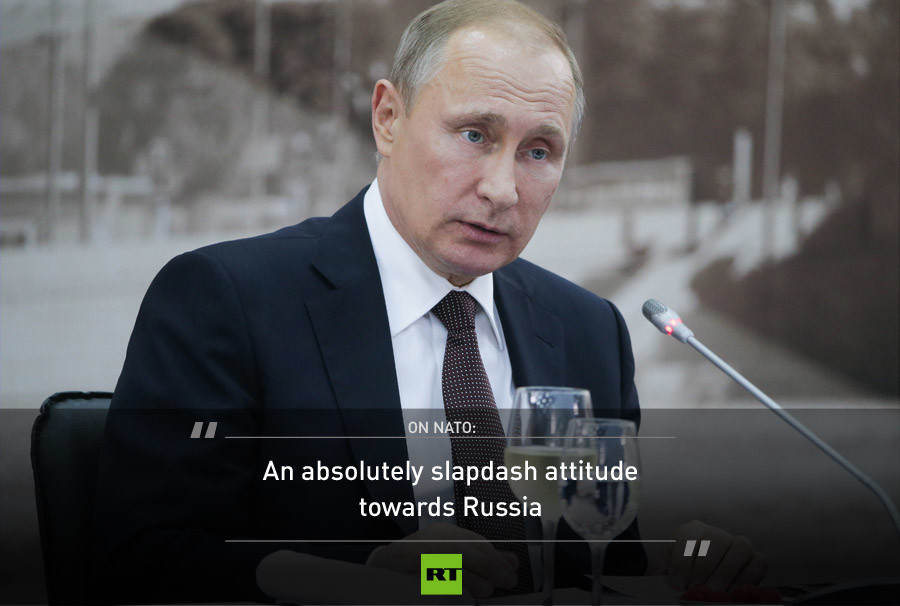 Russia has also been forced to respond to NATO's expansionist policy, Putin said, adding that he doesn't understand why the military alliance keeps creeping closer to Russia's borders. "The Soviet Union is no more, the Warsaw Treaty [between the USSR and eastern European countries] has ceased to exist, so why does NATO need to constantly broaden its infrastructure and move towards Russia's borders. Now they're taking in Montenegro. Who has threatened Montenegro?" Putin wondered, laughing.

The alliance has "an absolutely slapdash attitude to our position on anything," the Russian leader said, adding that it was the US that had unilaterally quit the missile defense treaty, which was initially signed to "provide strategic balance in the world." Yet, Putin reassured the international community that he does not want to proceed to a new Cold War, as "no one wants it." "However dramatic the logic of the development of international relations might seem on the outside, it's not the logic of global confrontation," he explained.

Putin reiterated that the controversial US missile shield in Eastern Europe constitutes a threat to the balance of power. "We will perfect our missile strike capability, to preserve balance, only because of that," he stressed.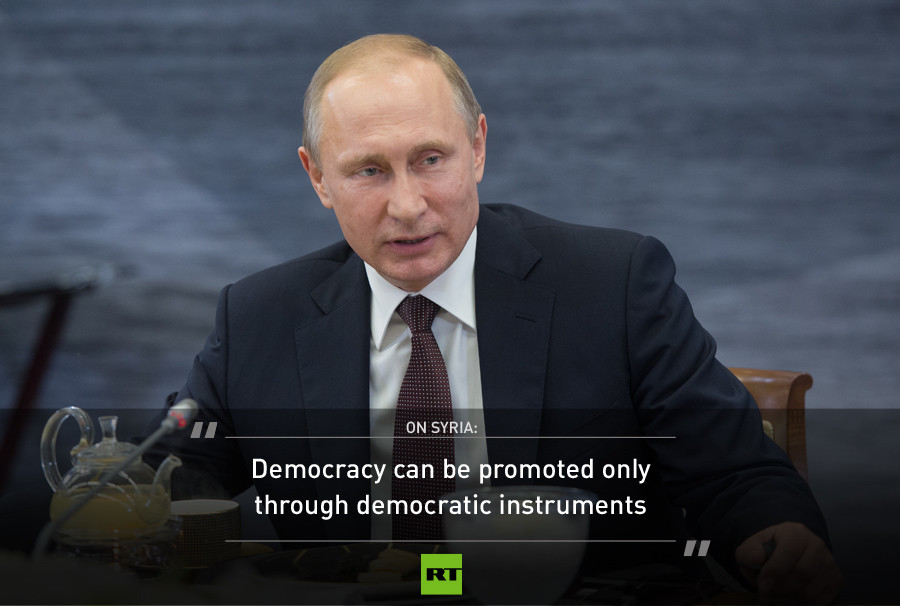 To maintain security in the world, a number of nations, including Russia and the US, have joined forces to help solve the crisis in Syria. Stressing that maintaining Syria's integrity must be the top priority, Putin warned that the disintegration of the Middle Eastern country would be a "destabilizing factor not only for the region, but for the whole world."

"We must act carefully, step by step, aiming to establish trust between all sides to the conflict," the Russian President said, adding that when such trust within society is reached, a new effective government can be formed on this basis. A political process is the only way to reach peace, Putin said, stressing that Syrian President Bashar Assad "also agrees to such process." "If we want to promote the principle of democracy, let's do so with democratic instruments," the Russian leader told the forum, while cautioning that it's a "complicated process that will take time."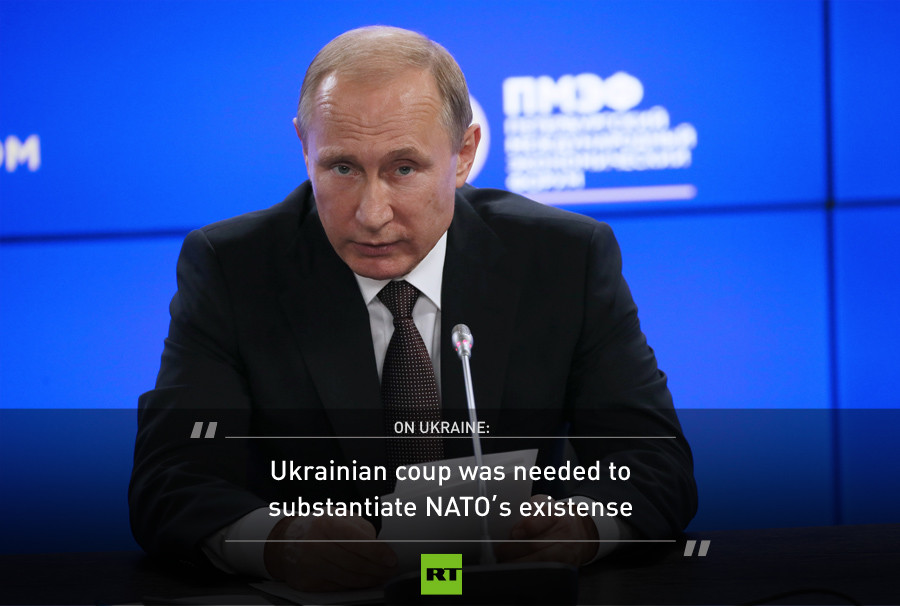 The situation in Ukraine, on the other hand, is a good example of how things should not be done in the international arena. "After the Arab Spring, [the US] sneaked up to our borders. Why did they need to support a coup in Ukraine?" Putin said. "Chances are, the opposition that is currently in power could have reached it through democratic elections, and we would have been working with them, just the way we worked with those who were in power before president Yanukovich." "But no," Putin went on, "they had to lead it to a bloody coup with victims, to cause civil war."
Putin said that the course of events had "scared" Ukraine's Russian-speaking population in the country's southeast and Crimea, forcing Russia to take measures "to protect certain groups of people."
However, NATO "needs a foreign enemy, otherwise what would be the reason for the existence of such an organization." The whole conflict was forced on Ukraine "to substantiate the very existence of the North Atlantic alliance," the Russian president concluded.
You can share this story on social media: