'You can now speak with frankness': Putin welcomes former French leader Sarkozy in St. Petersburg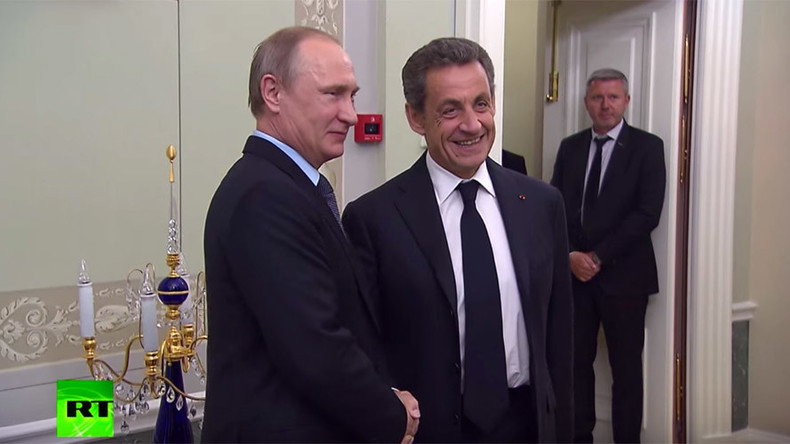 Vladimir Putin hopes for a frank chat with his former French colleague, Nicolas Sarkozy, who arrived in Russia to participate in the international economic forum. Ahead of the meeting, Sarkozy spoke in favor of lifting of anti-Russian sanctions.
"You are in a very nice position now – you can speak with frankness," Putin half-jokingly told Sarkozy, who was France's president from 2007 until 2012, as their informal meeting on the sidelines of the St. Petersburg International Economic Forum (SPIEF) was about to begin late on Wednesday. The politicians have a vast agenda to discuss, Putin said.
The two are expected to touch upon bilateral relations, as well as the current situation in Syria, Putin's aid Yuri Ushakov said on Tuesday.
Speaking to journalists in Paris earlier on Wednesday, Sarkozy criticized the hostile policy the West has pursued towards Russia.
"We don't need one more Cold War," he said, as cited by AFP, adding that he opposes "construction of a political wall dividing Russia and the European continent after the fall of the iron curtain."
READ MORE: Washington snubs Russia's economic forum, EU's Juncker to attend

Sarkozy advocated for reviewing the political strategy aimed at alienating Russia both economically and militarily.
"We need positive shifts in Russian-European relations," he said, elaborating that a "gradual and reciprocal lifting of sanctions" is one of the routes the parties can take to restore cooperation.
He also said European leaders should not look up to Washington on foreign policy matters and instead focus on Europe's own interests.
"Even accounting for my friendly feelings toward the American people, I want to say directly: it is not up to Obama to decide who is the enemy for France and who is not," he stressed, referring to his proposal back in 2010 to provide guarantees to Moscow that NATO's missile defense system in Europe would not be directed towards Russia by including it in the project. The initiative had failed due to lack of support, he said.
SPIEF is an annual international conference and a platform for discussing economic and business trends that attracts more than ten thousand participants from all over the world, including top foreign officials, academics, and opinion leaders. This year it will take place from June 16 to 18.