Investment funds worth $10 trillion center stage at St. Pete Economic Forum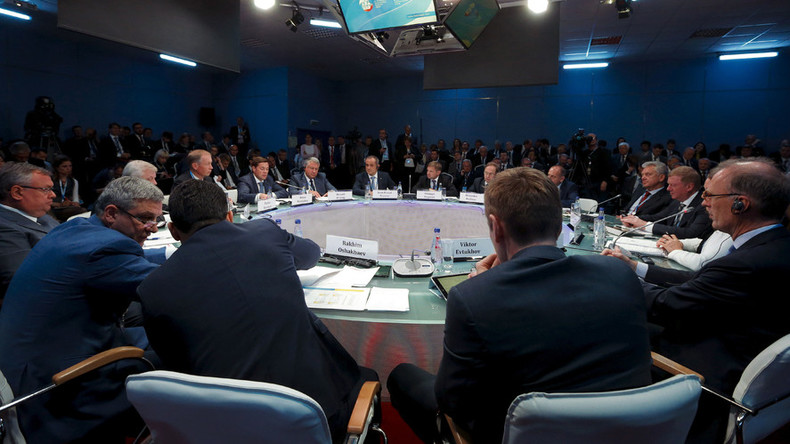 More investment funds than ever before will be at the International Economic Forum in St. Petersburg on June 16-18. Funds from 18 countries with assets of more than $10 trillion will attend, according to Russian Direct Investment Fund (RDIF) CEO Kirill Dmitriev.
"Earlier, we said we had invited [investment] funds running over $8 trillion. However, funds with assets over $10 trillion – twice as much as the year ago - have confirmed attendance," said Dmitriev, adding that 40 leading foreign investors controlling significant assets would come.
Dmitriev expects investors from Europe, the US, China, the UAE and Saudi Arabia to visit the forum.
"At the moment, 18 countries are listed – practically all of them belong to the key regions, having high investment value," he said, stressing that the Russian market is not isolated as investors are interested.
READ MORE: EU Commission president to visit Russia despite resistance from Washington & Brussels

A meeting of financers with President Putin is due to be held at a business dinner as part of the forum.
"This is the sixth event of its kind, and is the world's largest meeting with investors," concluded Dmitriev, pointing out that those attending the dinner would include the heads of leading sovereign wealth funds and investment institutions as well as long-term institutional lenders.
RDIF have invested over 760 billion rubles in various projects with 690 billion rubles provided by co-investors, partner and banks. The fund also attracted more than $27 billion to the Russia's economy providing long-time strategic partnerships.
READ MORE: SPIEF 2016: Capitalizing on the new global economic reality

Investment funds from China, Kuwait, the UAE, Saudi Arabia, Qatar, South Korea, Italy and France are among the partners of the organization.