EU Commission president to visit Russia despite resistance from Washington & Brussels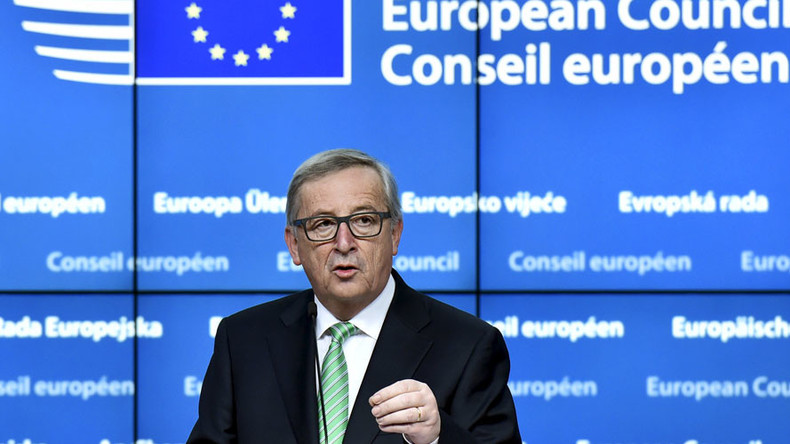 EU Commission President Jean-Claude Juncker plans to visit Russia on June 16, during the St. Petersburg International Economic Forum, Reuters reports, citing his spokesperson.
The Commission president would be the first leader of an EU institution to visit Russia since sanctions were imposed in March 2014 over the conflict in Ukraine.
Juncker is facing growing resistance over the trip from the US and some European countries, and even among his own staff, according to media reports.
Unnamed diplomatic sources told American magazine Politico the US fear Juncker's visit would strengthen Russian President Vladimir Putin's position before a crucial decision on renewing economic sanctions against Moscow.
The EU is expected to automatically prolong sanctions against Russia in July, despite a call from some European policymakers and business leaders to review the policy. They point out that sanctions against Moscow have proven politically ineffective and economically harmful for both Russia and European countries.
READ MORE: American businesses to attend Russian economic forum despite Washington discontent

Juncker's aides have reportedly said the Commission president plans to go, although the trip to St. Petersburg is not on his official schedule, and his name is yet to appear on the event's official program.
"He is invited and is expected to attend, but we only confirm his agenda a week ahead because it changes so much," a Commission spokeswoman told Politico magazine in an emailed statement.
"We certainly welcome such readiness for dialogue. President Putin has repeatedly stressed the importance to maintain and extend such dialogue," presidential aid Dmitry Peskov told media on Monday.
According to the Russian Embassy in Washington, major US investors will take part in the St. Petersburg International Economic Forum (SPIEF) this June, despite US government objections. Last year, SPIEF was attended by PwC, Boston Consulting, Schlumberger, Intel, ExxonMobil, Boeing and other American companies. In 2015, the forum saw 205 agreements, memorandums and contracts signed, with a total worth of $4.5 billion.
The annual St Petersburg International Economic Forum will be held on June 16-18. This year's theme is 'Capitalizing on the New Global Economic Reality'.
You can share this story on social media: